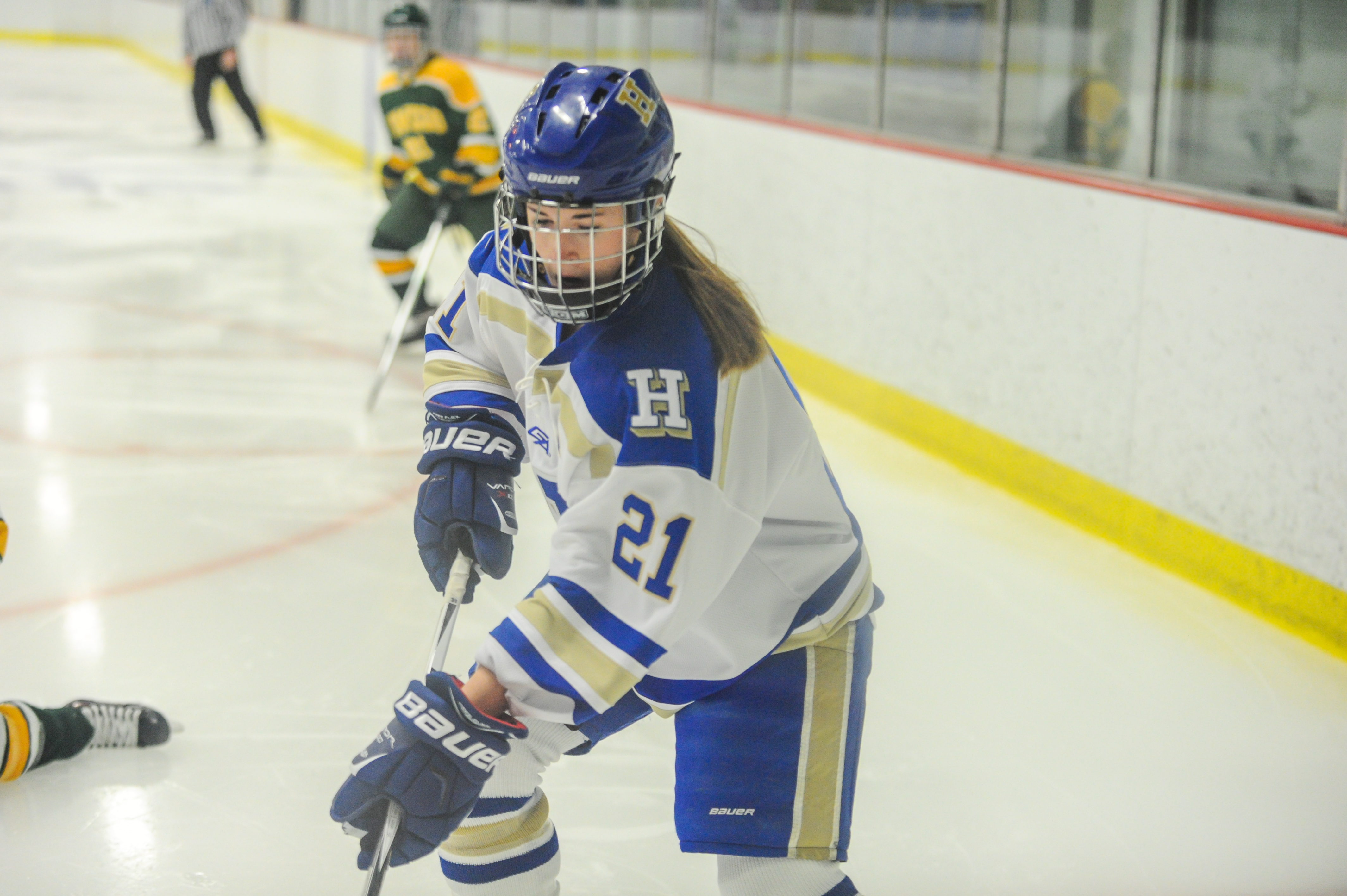 The Hamilton College women's hockey team wrapped up the first semester with a 2-2 tie against visiting Colby in a NESCAC game at Russell Sage Rink Saturday afternoon. The Continentals are idle for the next four weeks after starting the season with a 3-2-1 record.

Box score

Megan Fitzgerald '16 and Steph DiPietro '18 both scored their first goal of the season; both goals gave the Continentals the lead before the Mules tied the game twice.

Fitzgerald opened the scoring midway through the opening period, shooting from right of the net and sending a wrist shot over the far shoulder of Colby goaltender Angelica Crites and just inside the left post.

The Mules got on the board with just three seconds left before intermission when a shot by Delaney Flynn got through a jumble of players to tie the score. Flynn's linemates Bella Papapetros and Katie McLaughlin earned assists on the goal.

DiPietro broke the tie 12:47 into the third, converting a pass from Taegan Blackwell '19. Megan Ahern '17 was also credited with an assist on the play. Blackwell, whose three assists are second on the team, has collected a point in each of Hamilton's last four games.

Papapetros notched the game-tying goal with 2:08 to go in the third when she redirected a slap shot (Flynn and Brooke Gary assisted on the play).

The Continentals outshot Colby 10-5 over the rest of the third period and the five-minute overtime session but Crites (27 saves) turned away all five shots on net. Colby had the best scoring opportunity in overtime with Gary firing a shot just before the final horn sounded but Sam Walther '18 made the play the last of her 27 saves.

The Continentals will host Wesleyan in their next contest, taking on the Cardinals Sunday, Jan. 3. It will be a non-conference game between the NESCAC rivals.