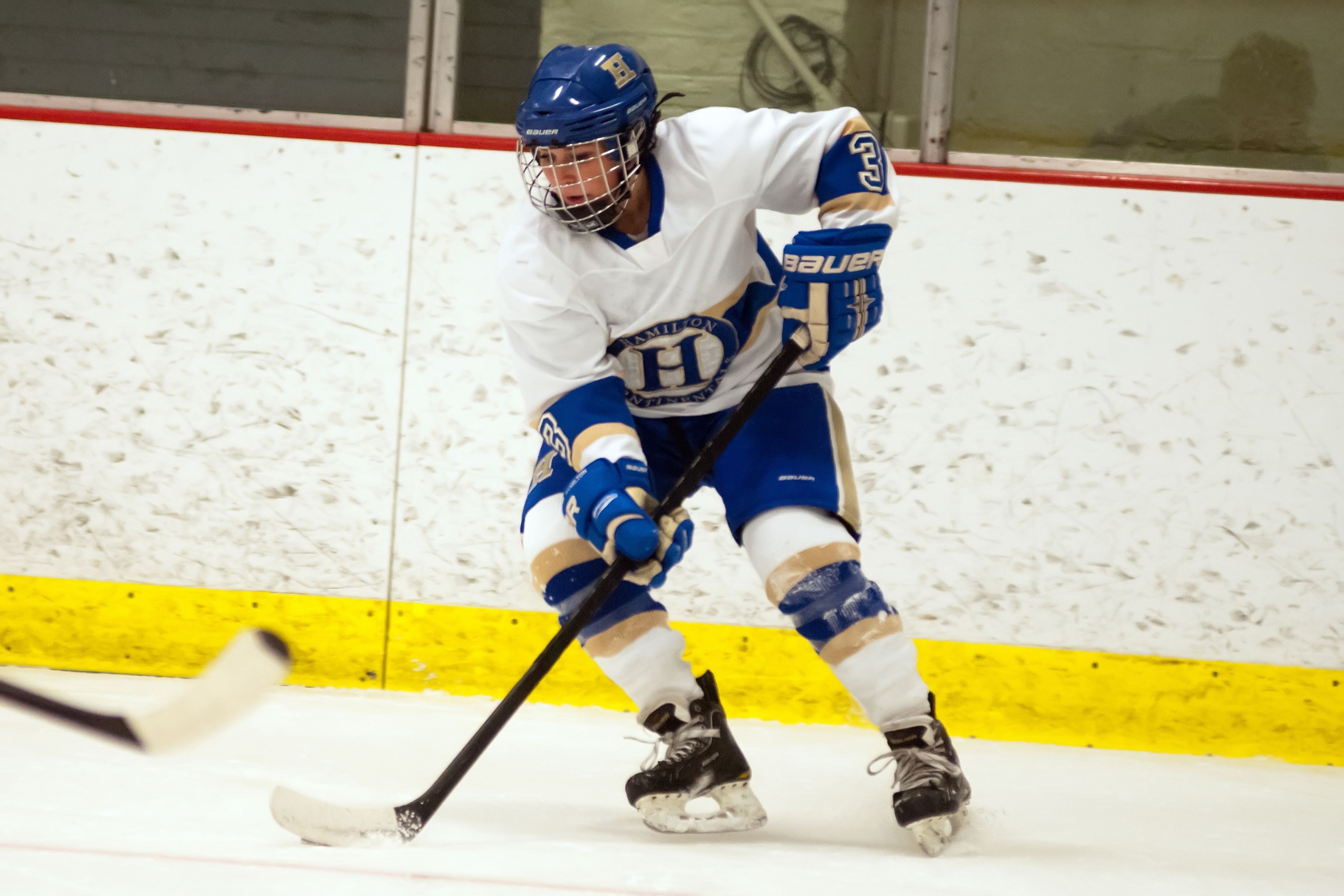 The Hamilton College women's hockey team lost to visiting SUNY Oswego 2-1 Tuesday afternoon in a non-conference game at Russell Sage Rink. The game marked the first of five straight the Continentals will play at home.

Box Score

Hamilton (1-2-0 overall) tied the score early in the second period before the Lakers (5-2-2) picked up the game winner with 8:46 left in the third period.

Sam Walther '18 made 28 saves for the Continentals.

Oswego's Amy Templeman scored the game-winning goal. Monica Cramer sent a pass from behind the Hamilton net to Templeman, who was perched above the right face-off circle. Templeman sent a slap shot into the top of the net for her first goal of the season.

The Continentals had 92 seconds of an extra attacker looking for the tying goal but Oswego's Mariah Madrigal made four saves during Hamilton's six-on-five advantage – including a sliding stop of a backhand shot by Teal Gosselin '17 – to preserve the lead.

Hamilton's goal came 6:36 into the second period on the Continentals' second power-play opportunity of the day. Taegan Blackwell '19 sent a high wrist shot at the Laker net that Gosselin batted over the stick of Madrigal. The goal was Gosselin's first this winter while Blackwell picked up her first collegiate point.

Oswego outshot the hosts 30-24, thanks to a 12-6 advantage in the opening period. The Lakers had the game's first seven shots before Megan Fitzgerald '16 stole a pass during a penalty kill, leading to a breakaway that Madrigal stopped for one of her 23 saves.

The Lakers got on the board first on a rebound goal by Brianna Rice late in the opening period. Walther made a stick save on a shot by Rachel Lenard but the rebound wound up in front of Rice in the slot and she pushed a shot into the net past Walther's glove side.

The Lakers' win pulled them to within 6-4 in the all-time series. Each of the last six meetings between the two teams have been decided by one goal.

Hamilton continues non-league action on Tuesday, Dec. 1, hosting Morrisville State in a 7 p.m. game.