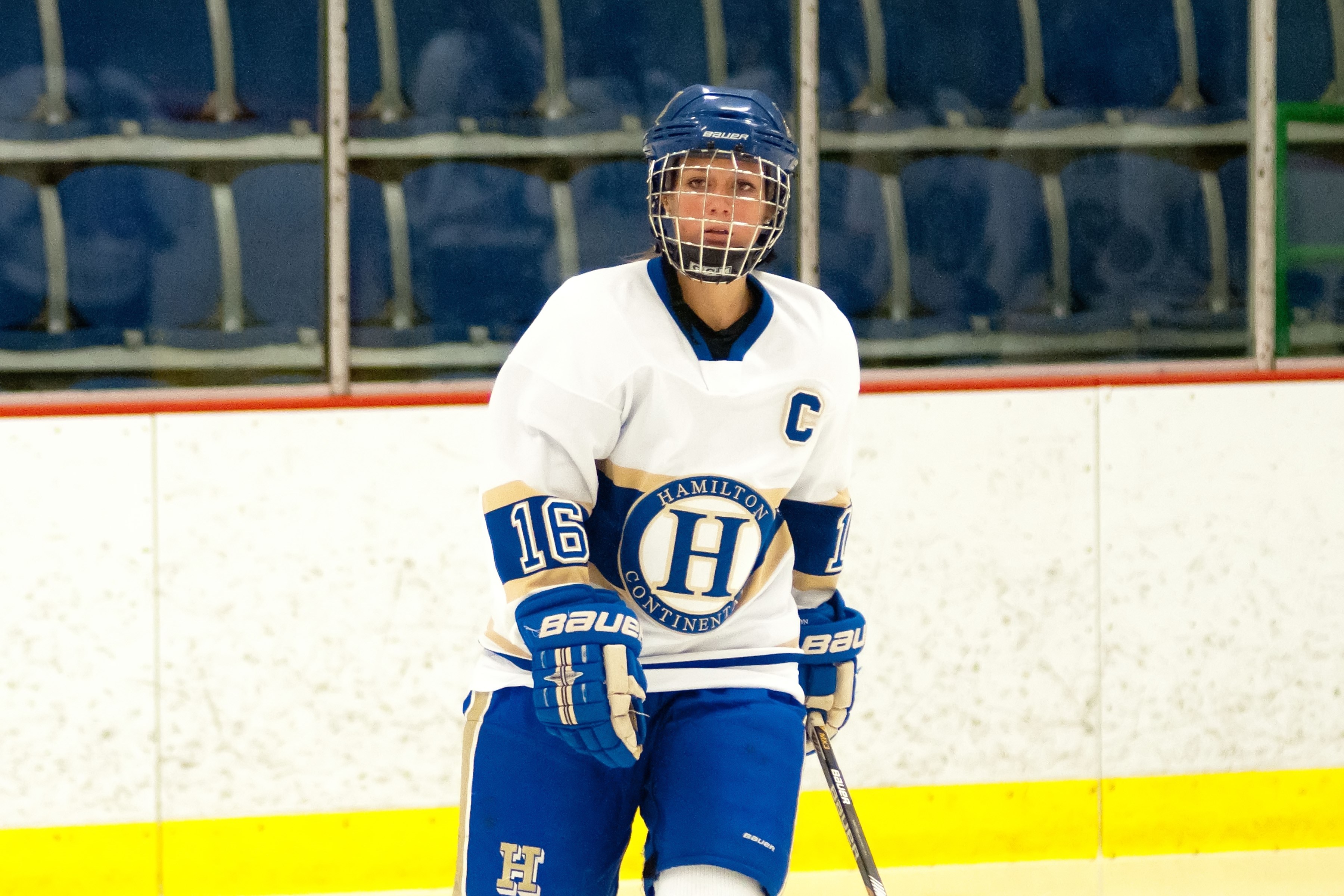 The Hamilton College women's hockey team won its fifth straight game on Tuesday afternoon, blanking host SUNY Potsdam 6-0 to improve to 5-4-2 on the season. Katie Parkman '17 and Sara Taffe '17 both scored two goals for the Continentals.

Box score

Hamilton stretched its winning streak to within one of the school record, set in February 2004. The Continentals, who moved above .500 for the first time this winter, can tie the program record on Friday, Jan. 16, at Williams College.

Parkman recorded her third straight multi-point game, matching a personal high with three points. She collected Hamilton's first two goals, including the opening score just 15 seconds into the first period. She added her team-high eighth goal at 3:11 of the first. Parkman, who was named NESCAC Player of the Week after earning tournament MVP honors at the Saint Michael's College DoubleTree Classic over the weekend, leads Hamilton with 13 points. She has scored 29 points in 35 career games.

Casey Brown '16 collected a career-best three assists, including two on Parkman's goals. Mairead Carey '18 added a pair of assists and Teal Gosselin '17 finished with a goal and an assist. Courtney Power '15 scored her first career goal to put Hamilton up 3-0 with Megan Fitzgerald '16 assisting on the play.

Taffe, who recorded her first collegiate two-goal game, scored a goal in each of the last two periods. She notched a power-play goal 3:38 into the second off assists by Carey and Gosselin. Gosselin added a power-play goal four minutes later and Taffe closed out the scoring with 3:09 left in the third. Brown and Parkman recorded their fifth assists on the play.

Sarah Schuchardt '15 and Yvonne Rondeau '18 combined to record Hamilton's second shutout of the season. Schuchardt (5-2-0) earned the win with eight saves over the first 25 minutes. Rondeau made 18 saves in her first collegiate appearance.

Potsdam goaltender Alexane Rodrigue '16 made 23 saves in the final 57 minutes after relieving Abby Tardelli '17, who gave up three goals on the Continentals' first four shots.

Hamilton opens a two-game series at Williams on Friday at 7 p.m.