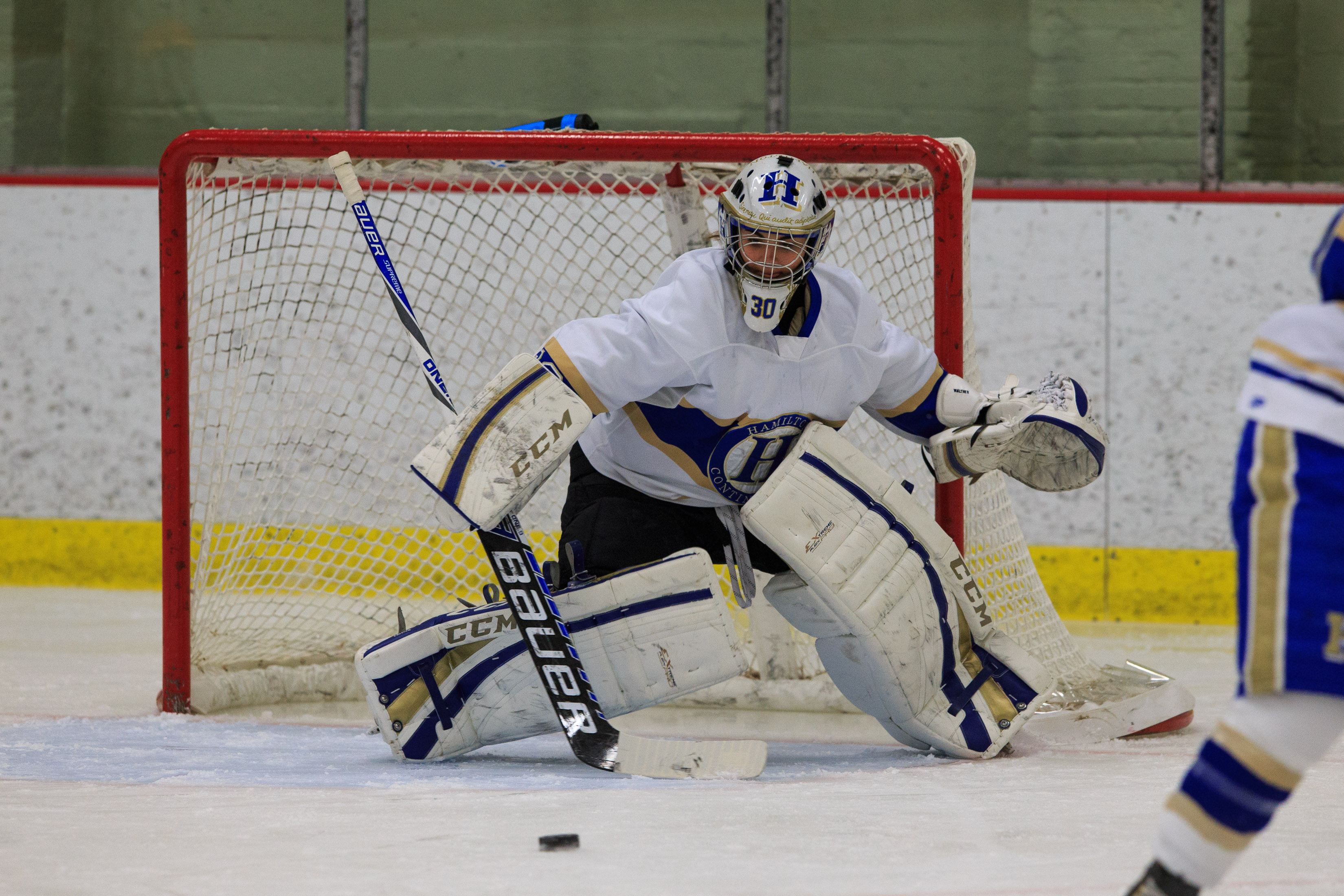 The Hamilton College women's hockey team recorded its program-record fifth shutout of the season, blanking host Bowdoin College 2-0 on Saturday afternoon in Brunswick, Maine.

Box score

The win gave the Continentals, who rallied to tie the Polar Bears on Friday in the opener of the weekend series, their first series win ever over Bowdoin. Hamilton hadn't shut out the Polar Bears in 18 years.

Sam Walther '18 stopped 25 shots to collect her third shutout of the year. Only one freshman has blanked more opponents this season.

With the win the Continentals (9-9-4, 3-8-3 NESCAC) moved closer to securing a berth in the NESCAC Championship quarterfinals. Hamilton hosts Colby College in a two-game NESCAC series next weekend; the Continentals can clinch a spot in the postseason with a pair of wins.

Walther evened her record at 4-7-4, making 20 saves over the final two periods. She improved her goals-against average to 1.83 and her save percentage to .931. Both figures either better or match the program's single-season records.

Megan Fitzgerald '16 put Hamilton on the board after 30 minutes of scoreless hockey. She converted a two-on-one for her first goal of the season, taking a pass from Sara Taffe '17, who had chipped the puck out of the Continentals' defensive zone. Fitzgerald skated down the right side and buried a wrist shot in the top right corner of Bowdoin's net.

The Continentals added to their lead 3:40 into the third on a goal by Teal Gosselin '17. Coming in on the left side, Gosselin slid the puck towards the net where it deflected off goaltender Lan Crofton '17 for a 2-0 lead.

Crofton made 11 saves before being replaced after Gosselin's goal by Beth Findley '16, who made five saves in 13:09.

Saturday's opener of the Colby series begins at 7 p.m. at Russell Sage Rink. The Polar Bears (9-8-5, 5-6-3 overall) wrap up the regular season with two games at nationally ranked No. 9 Amherst College.