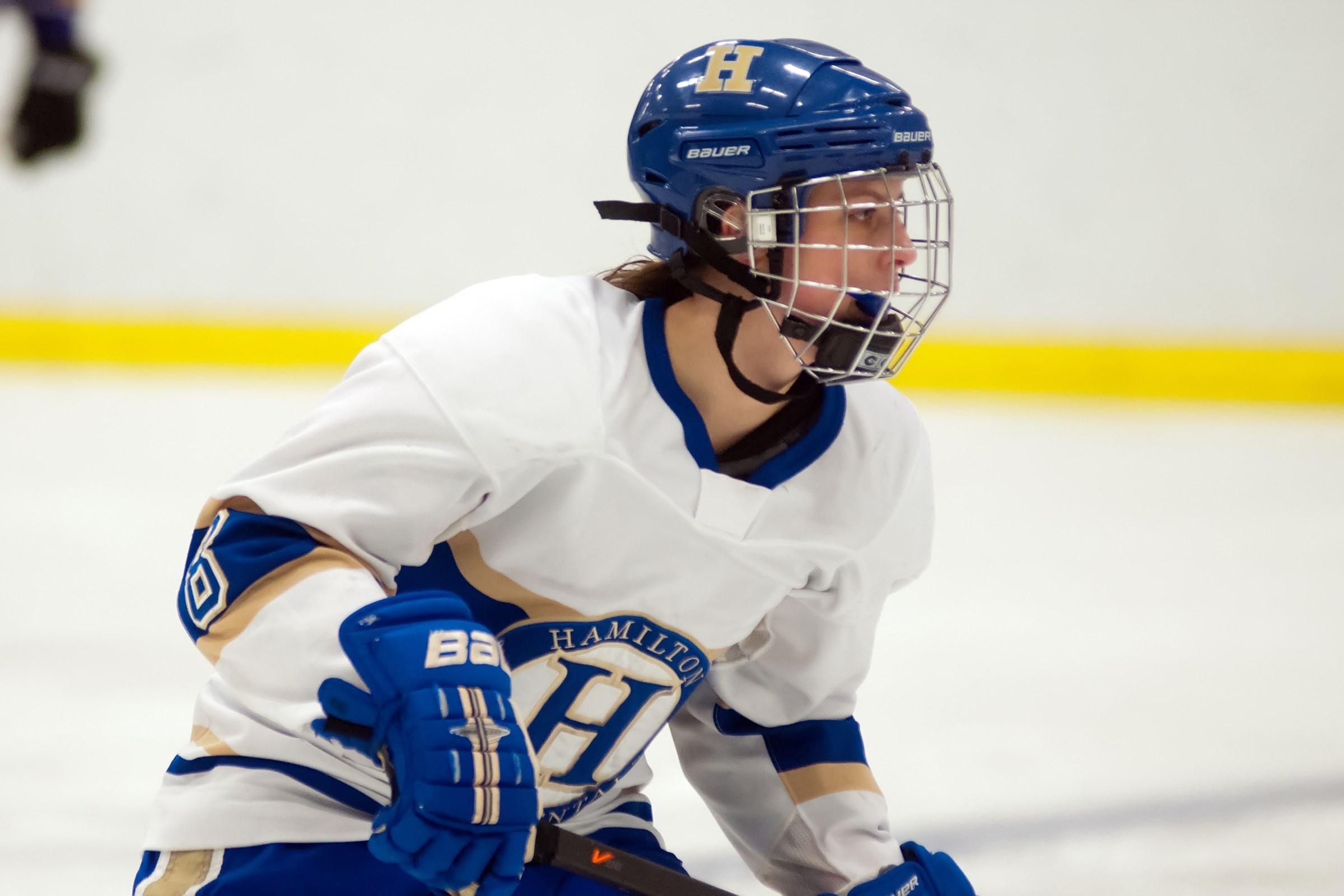 Hamilton College recorded nine shots on goal in the five-minute overtime period but the Continentals ended up in a 2-2 tie with the Utica College Pioneers in a non-conference game at Hamilton's Russell Sage Rink on Dec. 2.

Box Score

Katie Parkman '17 and Hannah Bartlett '16 scored power-play goals for the Continentals (0-4-2 overall). Hamilton was 2-for-7 on power-play opportunities. Jade Alvillar '18 and Caroline Knop '18 were credited with assists and the first points of their collegiate careers. Sam Walther '18 made 28 stops as her goals against average dipped to 2.17. Walther has a .930 save percentage in four starts.

Louise Steele-Norton '15 scored both goals for Utica (3-2-1). Keira Goin '17 turned away 27 shots, including 13 in the final 15 minutes of the contest. The Pioneers held a 30-29 edge in shots but were 0-for-4 on the power play. Utica still leads the all-time series, 10-7-4.

The Continentals were on the power play for the first 1:40 and the final 1:25 of the extra period. The extra skater allowed Hamilton to enjoy a 9-1 shot advantage in OT but the Continentals couldn't get the puck past Goin.

Parkman gave Hamilton a 1-0 lead with her third goal this season with 2:46 left in the first period. With 10 seconds left on the power play, she pounced on a rebound after Goin had stopped a shot and put the puck in the back of the net.

The Continentals were on the power play for nearly four straight minutes midway through the second period but couldn't capitalize. Instead, the Pioneers tied the score on Steele-Norton's first goal of the night with 1:55 remaining in the period. Morgan Reed '16 and Nicole Kieffer '15 picked up the assists. Reed leads the team with eight points.

Hamilton went in front 2-1 on Bartlett's second goal this season just 1:29 into the third period. She came down the left side on a breakaway and unleashed a shot from the faceoff circle that fluttered over Goin's left shoulder and under the crossbar.

Steele-Norton tied the score again with her fourth goal this season at 10:03 of the third. Utica was already on the power play when one of the officials raised his arm to signal another penalty on the Continentals. Goin went to the bench and that created a 6-on-4 advantage for the Pioneers for a few moments. Just two seconds after the Hamilton penalty expired, Steele-Norton scored on a slap shot that squeezed under Walther's pads. Kelsey Dowdall '15 and Samantha Husak '18 registered the assists.

The Continentals travel to SUNY Canton for another non-conference game on Saturday, Dec. 6. Utica is at SUNY Cortland on Saturday as well.