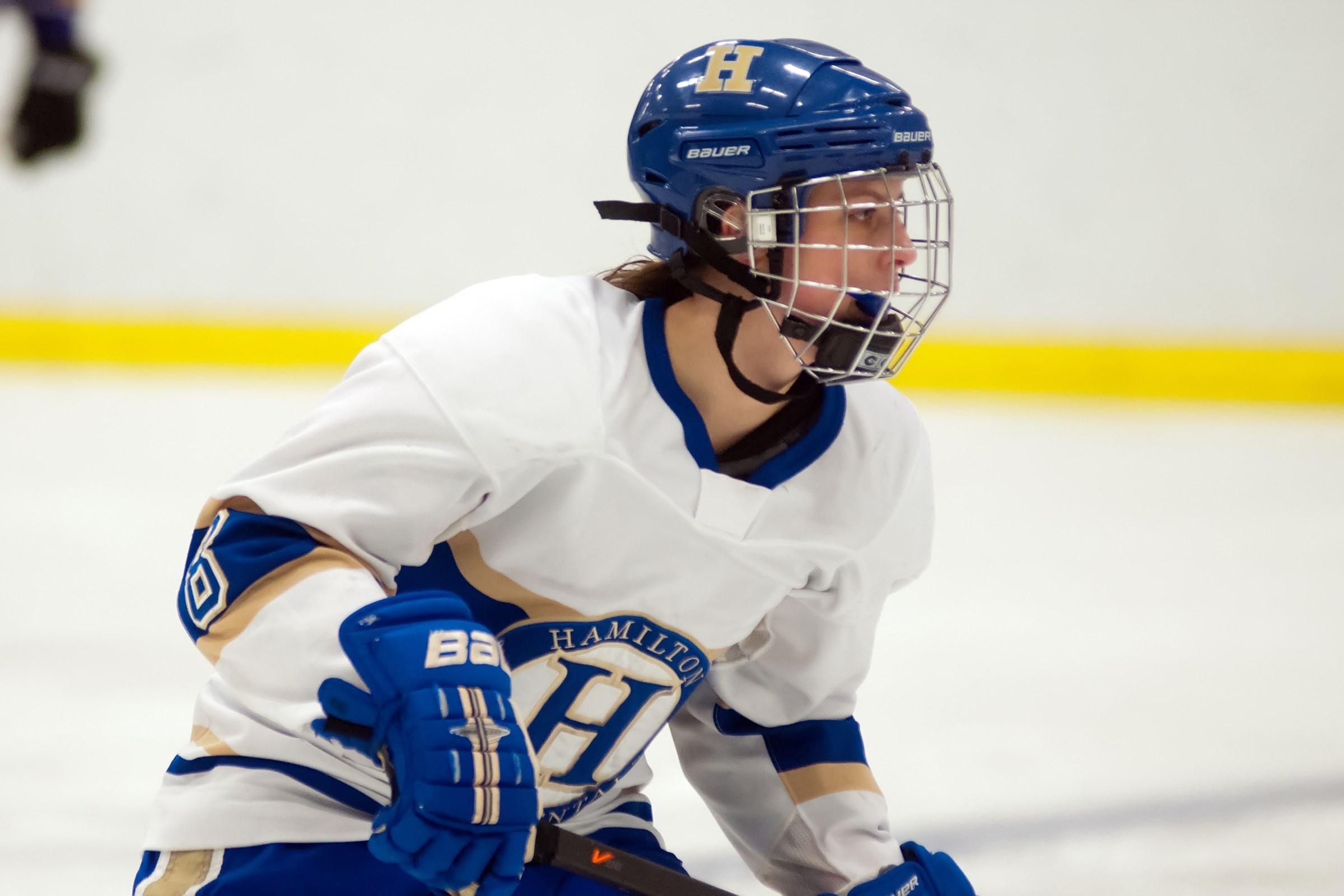 Connecticut College rallied from a 3-1 deficit with two goals in the third period and the Camels and the Hamilton College Continentals played to a 3-3 tie in NESCAC action at Conn. College's Dayton Arena on Nov. 21.

Box Score

Casey Brown '16 and Katie Parkman '17 posted a goal and an assist apiece for Hamilton (0-2-1, 0-2-1 NESCAC). Hannah Bartlett '16 added a goal and Ianthe Lekometros '16 was credited with a pair of assists. Jade Alvillar '18 and Steph DiPietro '18 had one helper apiece. Sam Walther '18 turned away 46 shots, including 25 in the third period and seven more in overtime.

Ashley Anctil, Amelia Dineen and Stephanie Izzi scored the goals for the Camels, who didn't have anyone register more than one point. Kelsie Fralick made 19 saves.

Special teams played a big role as Conn. College was 1-for-8 on the power play. The Continentals were unsuccessful in four power-play chances but they tallied a shorthanded goal. The Camels (1-0-2, 1-0-2) enjoyed a 49-22 shot advantage.

Hamilton enjoyed a 3-1 advantage after Bartlett scored shorthanded with 14:10 remaining in the third period. The goal is the sixth of her career.

Anctil pulled the Camels within a goal with 13:36 remaining in the third. Jane Pagano delivered a blast from the point and Anctil redirected the shot from her backhand into the back of the net.

Dineen supplied the equalizer with 1:44 to play in the third just 15 seconds after Conn. College pulled Fralick for the extra skater. Amanda Bogue intercepted a clearing attempt at the blue line and fed Kate Kohl, who cycled the puck to Dineen. She buried a low shot to the far-post side and made it 3-3. The Camels had five power plays in the third period, including a 5-on-3 that bridged the end of the third and the beginning of OT.

Conn. College outshot the Continentals 7-1 in the extra session. Hamilton had a power play for the final 24 seconds of overtime.

The Continentals took their first lead 12:06 into the second period. Lekometros delivered a pass through the slot to Brown, who went top shelf at the near-post side for a 2-1 advantage. Parkman also had an assist.

The Camels opened the scoring just 56 seconds into the first period. Lily Connolly won a battle for the puck near the back wall and fed Izzi in the slot for a one-timer and a 1-0 lead.

The Continentals responded with their first goal of 2014 at 3:42 in the first. Brown fired a shot that was saved by Fralick but Parkman pounced on the rebound in front and snuck a low shot past the goalie for a 1-1 tie.

The teams play again at Conn. College on Saturday, Nov. 22, at 3 p.m.