Women's hockey ties Trinity
---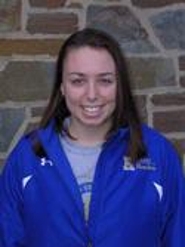 Katie Zimmerman '13 scored a power-play goal with 2:28 left in the third period to lift Hamilton College to a 1-1 tie with visiting Trinity College in a New England Small College Athletic Conference at Russell Sage Rink on Nov. 29.

Zimmerman's goal was her second in as many games for the Continentals (1-3-1 overall, 1-2-1 NESCAC). Becca Hazlett '13 stopped 35 shots for Hamilton.

Trinity notched its lone goal on a power play with 3:16 remaining in the second period. The Bantams are 5-0-1 in their last six games against Hamilton, but the Continentals own the all-time series, 15-6-1.

Trinity (3-0-1, 1-0-1) scored just three seconds into a 5-on-3 advantage. One of the Bantams had just left the penalty box after she was whistled for hooking at 14:41. Hamilton's Rachel Rapoza '10 was sent off for tripping at 15:32, and teammate Meredith Bitterman '12 joined Rapoza 37 seconds later to create a 4-on-3 advantage for Trinity.

The Bantams held on to their 1-0 lead until late in the third period, when they were whistled for two penalties just 20 seconds apart. One Bantam received the first for hooking with 3:20 left, and another was called for tripping. Zimmerman scored from the right side after the Trinity goalie stopped shots by Bitterman and Stephanie Miguel '11.

Both teams had power-play opportunities in overtime. The Continentals had an extra skater for the final 62 seconds. Trinity took three shots during the extra session while Hamilton had one. Both teams finished 1-for-9 on the power play.
Hamilton hosts Colby College for another NESCAC game on Friday, Dec. 4.