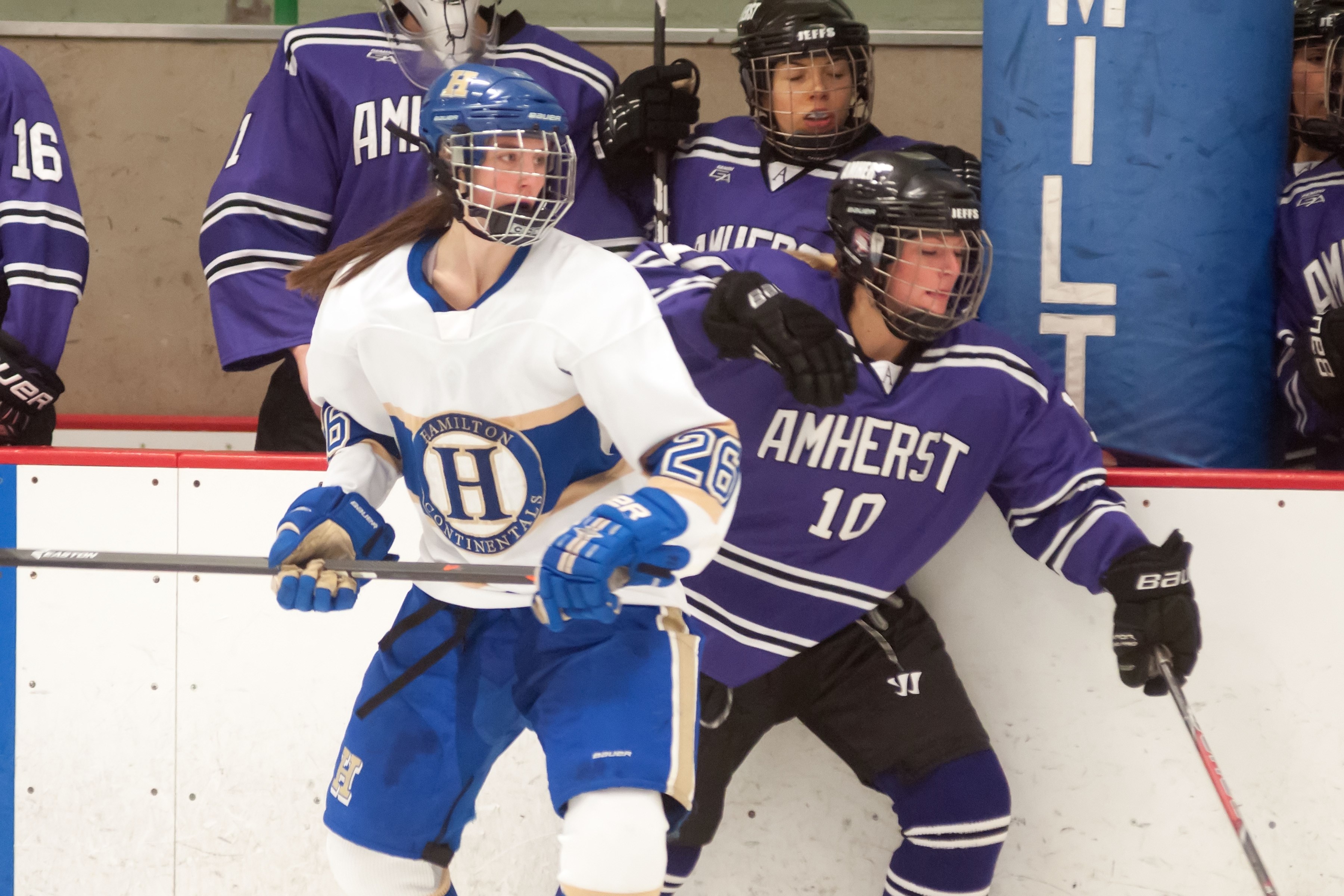 The Hamilton College women's hockey team closed out the non-conference portion of its season with a 3-0 blanking of visiting SUNY Cortland Monday at Russell Sage Rink. The Continentals improved to 10-6-2 and extended their program record by posting their sixth shutout of the season.

Box Score

Hamilton finished with a 6-2-0 record outside of the NESCAC, matching the 2013-14 team for the program's best non-league mark. The Continentals are 24-9-1 in non-conference play over the past four seasons.

Sam Walther '18 made 19 saves to record her fifth shutout of the season and the eighth of her career. Both totals are school records.

Alycia Racicot '16 put the Continentals on the board after 35 scoreless minutes, scoring her second goal of the season – both have been game winners. Racicot scored on a wrap-around after taking a pass from Caroline Knop '18; Cortland's Victoria Gibson had stopped a pair of close-range shots by Ianthe Lekometros '16 but Knop collected the rebound at the left post and fed Racicot behind the net.

Hannah Bartlett '16 picked up her team and NESCAC-leading 14th goal of the season just before the second period ended. Her shot from above the right faceoff circle was initially stopped by Gibson but trickled into the net.

The Continentals closed out the scoring on a power-play goal with 3:16 left in the third period. Megan Ahern '17 scored after a scramble in front of the net. Olivia Hawes '19 and Mairead Carey '18 picked up assists on the play; Hawes' was her team-leading ninth and Carey's was her first of the year.

Gibson, who was making just her second appearance of the season, stopped 20 shots for the 9-8-1 Red Dragons.

Walther lowered her goals-against average to 1.35, which ranks eighth nationally. She's 10th in save percentage (.946) and only five goaltenders have recorded more shutouts.

As a team, Hamilton stands 10th nationally in scoring defense.

The Continentals open up a four-game NESCAC road trip this weekend, playing the first of two games at Bowdoin Friday at 7 p.m.