Women's ice hockey clips Colby for NESCAC win
---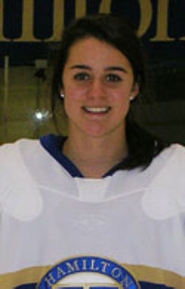 Gigi Fraser '14 broke a 1-1 tie with a goal at 9:39 of the third period to lift Hamilton College to a 2-1 win against Colby College in a New England Small College Athletic Conference women's ice hockey game at Hamilton's Russell Sage Rink on Jan. 16.

The Continentals (5-7-0 overall, 4-4 NESCAC) won for the first time in five games at home this season. Colby (5-10-0, 1-7) dropped its third straight game. Eight of the Mules' 10 losses have been by a goal.

Midway through the third period, Hamilton was moving the puck around in the Colby defensive zone during a delayed penalty call on the Mules when Hannah Jaiven '14 pulled the trigger from the blue line. Fraser redirected Jaiven's slap shot past Colby goalie Brianne Wheeler '14 for her third goal.

The Mules grabbed a 1-0 lead with 7:32 left in the first period. Stephanie Scarpato '11 and Sylvia Xistris '14 skated into the Continentals' zone on a mini-breakaway and Xistris passed to Scarpato from the right circle. Scarpato fired a one-timer from the slot into the back of the net for her team-leading sixth goal.

Hamilton tied the score at 7:28 of the second period on a goal during another delayed penalty on Colby. Meredith Bitterman '12 took a shot from outside that went wide and high of the goal, but it bounced hard off the boards to Katie Zimmerman '13, who was positioned near the goal line to the right of the net. Zimmerman lifted a wrist shot from the tough angle into the goal for her team-leading fifth of the season.

The Mules had one last chance late in the third period. Jaiven was sent off for body checking with 22.2 seconds remaining, and Colby pulled Wheeler to get a 6-on-4 advantage. However, the Mules did not muster a shot on goal in the final seconds. Becca Hazlett '13 made 21 saves, including 10 in the third period, for the Continentals. Wheeler finished with 23.

Hamilton also edged Colby 4-3 in Waterville, Maine, on Dec. 4. The Mules still hold an 11-10-3 advantage in the all-time series. The Continentals were 0-for-4 on the power play and Colby was 0-for-3. Hamilton held a 25-22 edge in shots.

The Continentals host SUNY Oswego for a non-conference game on Wednesday, Jan. 19. The Mules host Trinity College in NESCAC action on Friday, Jan. 21.