Women's ice hockey edges Utica in overtime thriller
---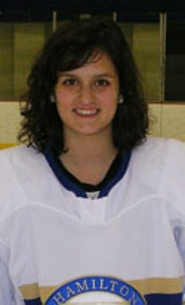 Stephanie Lang '14 scored an unassisted goal with 46 seconds left in the five-minute, sudden-victory overtime period to lift Hamilton College to a 2-1 win against Utica College in a non-conference game at the Utica Memorial Auditorium on Feb. 8.

Hamilton (10-10-0 overall) has won four of its last five games. The Continentals have defeated Utica three straight times, but still trail in the all-time series, 7-6-2. Hamilton hosts Connecticut College for a New England Small College Athletic Conference game on Friday, Feb. 11.

The Pioneers (10-10-0) dropped their fourth straight game. Utica was 1-for-3 on the power play and killed all three of the Continentals' chances.

MacKenzie Roy gave the Pioneers a 1-0 lead with 2:39 left in the first period on her sixth goal just seven seconds into a power play. Meredith Tice and Tiffany Bichrest picked up the assists.

Laura DiCarlo '12 evened the score for Hamilton at 4:34 of the second period. DiCarlo tallied her second goal this season on an assist by Meredith Bitterman '12. Bitterman has eight helpers this season. Both teams had a power play late in the third period, but didn't score, so they went to overtime.

Lang helped the Continentals avoid their first tie this season with her fifth goal. She now has a pair of game-winners.

Tori Bogen '14 made 26 saves, including three in overtime, as her record in goal improved to a perfect 4-0. Bogen has a 1.91 goals against average and .917 save percentage. Hamilton held a 28-27 edge in shots. This was the first overtime game for the Continentals this season.