Women's ice hockey drops NESCAC game to No. 8 Trinity
---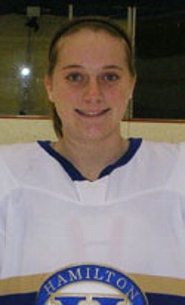 Emily Kleidon '14 scored the game-winning goal midway through the second period to lift nationally ranked No. 8 Trinity College to a 3-1 win against Hamilton College in a New England Small College Athletic Conference game at Hamilton's Russell Sage Rink on Feb. 18.

Trinity (16-3-4 overall, 9-3-3 NESCAC) won its fifth straight game. The Bantams have clinched the No. 3 seed in the NESCAC championship, and will host the Continentals for a quarterfinal game on Saturday, Feb. 26.

Hamilton (10-13-0, 5-10) is locked into the No. 6 seed for the conference championship. The Continentals have dropped three games in a row -- all at home.

Trinity was leading 1-0 at the end of the first period after outshooting Hamilton 10-2. The Continentals tied the score at 10:23 of the second, but the Bantams took the lead for good 84 seconds later.

Kleidon earned her fifth goal of the season. Jill Roloff '11 and Kim Weiss '11 chipped in one goal apiece, and Alexa Pujol '14 stopped 24 shots for the Bantams. Weiss has a team-high 21 goals. Celia Colman-McGaw '12 and Laura Komarek '11 each picked up one assist.

Abby Runyon '13 was credited with her fifth goal this season. Becca Hazlett '13 made 27 saves for the Continentals.

Roloff gave the Bantams a 1-0 lead during a power play at 6:35 of the first period. Colman-McGaw passed the puck to Roloff, who shot a one-timer that deflected off a Hamilton player and landed in the back of the net.

The Continentals picked up their intensity in the second period as they outshot the Bantams 12-11. Hamilton caught Pujol out of the goal to tie the score. As Pujol went behind the net to settle the puck, Runyon gained control and scored before the goalie could get back in position. Kleidon scored less than two minutes later off a pass from Komarek for the 2-1 lead.

With 32 seconds left in the third period, the Continentals pulled Hazlett for an extra skater. Hamilton had one scoring opportunity before Trinity clinched its victory on Weiss' unassisted empty net goal with two seconds left.

Trinity outshot Hamilton 30-25, and was 1-for-5 on the power play. The Continentals were scoreless in just two chances.

Hamilton hosts Wesleyan University in NESCAC play and for the regular season finale on Saturday, Feb. 19, at 3 p.m, while Trinity travels to Connecticut College.