Women's ice hockey tripped up by No. 8 Trinity
---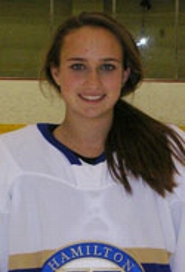 Celia Colman-McGaw '12 scored two goals to lead nationally ranked No. 8 Trinity College to a 3-1 win over visiting Hamilton College in a New England Small College Athletic Conference women's ice hockey championship quarterfinal on Trinity's Williams Rink in the Koeppel Community Sports Center on Feb. 26.

No. 3 seed Trinity (18-3-4 overall) played Hamilton three times this season and won all three games by the same score. The Bantams have won seven games in a row.

The Continentals (11-14-0) were the No. 6 seed in the eight-team championship. Hamilton dropped to 3-10 all-time in the event, including two losses at Trinity.

The Bantams came out aggressive in the first period, as sophomore Chelsea Campbell '13 scored 3:09 in to give Trinity a lead it did not relinquish. Colman-McGaw scored her first goal of the game with 2:48 left in the first to give the Bantams a 2-0 edge.

Colman-McGaw added another goal at 6:59 of the second period for a 3-0 cushion. The Bantams outshot the Continentals 20-7 in the second. Colman-McGaw has four goals and two assists in her last four games.

Nikki Haskins '14 scored her seventh goal for Hamilton with 4:12 remaining in the third period. Christie Sharlow '11 and Stephanie Lang '14 had the assists.

Trinity outshot Hamilton 39-19 for the game. Becca Hazlett '13 made 36 stops, while Alexa Pujol '14 made 18 saves for Trinity in her first collegiate postseason start. The Bantams were 0-for-6 on the power play and the Continentals were 0-for-3.