Women's ice hockey blanked at Conn. College
---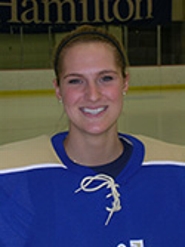 Kelsie Fralick '15 made 50 saves and recorded her first shutout of the season in Connecticut College's 1-0 NESCAC win against Hamilton College at Conn. College's Dayton Ice Arena on Dec. 1.

Ariel DiPasquale '13 scored her team-leading fourth goal for the Camels. Molly Murphy '13 and Amanda Bogue '15 were each credited with assists.

Becca Hazlett '13 turned away 21 shots for Hamilton, which had its four-game win streak come to an end. Hazlett lowered her goals against average to 2.18 in six starts. The Continentals have allowed three goals in their last four games.

Hamilton dominated Conn. College through the first two periods by outshooting the Camels 36-15, but there was still no score. The Continentals came up empty on a two-skater advantage for 1:10 in the opening frame.

Katie Zimmerman '13 had a golden opportunity at the 4:30 mark of the third period, but was denied by Fralick. She made two more terrific saves before the Camels were able to get on the board with a power-play goal. Murphy sent a pass to DiPasquale at the far post and she found the back of the net.

The Continentals (4-2-0 overall, 2-2 NESCAC) pulled Hazlett for the final 46 seconds in favor of the extra skater. Hamilton squeezed off one last shot from the point, but Fralick came up with the save to secure the shutout.

Conn. College (2-2-1, 1-2-1) went 1-for-3 on the power play and a perfect 5-for-5 on the penalty kill. Hamilton outshot the Camels 50-22.

The Continentals return home for a non-conference game against SUNY Potsdam on Tuesday, Dec. 4. Conn. College hits the road for a game at Holy Cross on Tuesday.