Women's ice hockey blanks SUNY Cortland
---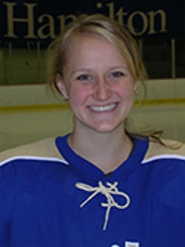 Hamilton College received one goal from four different players and the Continentals returned to the win column with a 4-0 victory over SUNY Cortland in a non-conference game at Cortland's Alumni Arena on Jan. 8.

Hamilton (7-3-0 overall) remained unbeaten in 14 games all-time against Cortland. The Continentals routed the Red Dragons 8-1 in Clinton back on Nov. 20.

Jill Tokarczyk '14 scored her first goal this season and added an assist. Katie Zimmerman '13, Hannah Jaiven '14 and Nikki Haskins '14 posted one goal each. Zimmerman leads Division III with 1.20 goals per game and has 12 goals and 14 points on the season.

Ianthe Lekometros '16 and Hannah Bartlett '16 passed out one assist apiece. Bartlett is tied for the team lead with five assists.

Becca Hazlett '13 and Tori Bogen '14 combined on the Continentals' second shutout of 2012-13. Hazlett started in goal, made five saves in the first period and picked up the win. Bogen stopped nine shots during the last 40 minutes in her first appearance this season.

Zimmerman opened the scoring at the 7:55 mark of the first period when she collected a rebound off a shot by Lekometros and scored from the left side. The Continentals went on the power play with 4:40 left in the first and extended the lead to 2-0. Jaiven scored on a wrist shot through traffic from inside the blue line with 2:53 remaining, and Tokarczyk and Bartlett earned assists.

Hamilton made it 3-0 just 28 seconds into the second frame when Haskins tallied an unassisted goal on a breakaway. Tokarczyk completed the scoring with 2:14 to go in the period when she forced a turnover near the right boards and scored on a quick shot from the right circle.

Deanna Meunier turned away 30 shots for the Red Dragons (1-10-1). The Continentals enjoyed a 34-14 shot advantage. Hamilton was 1-for-4 on the power play and killed all three of Cortland's chances.

Hamilton goes on the road to NESCAC foe Williams College for two games on Friday and Saturday, Jan. 11 and 12.