Women's ice hockey blanks Potsdam, 4-0
---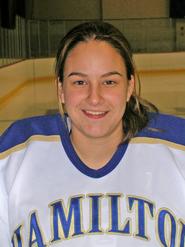 Hamilton College goalie Lesley Ryder '11 made 24 stops on the way to her first career shutout in the Continentals' 4-0 non-conference win against SUNY Potsdam at Sage Rink on Jan. 27.
The Hamilton defense held strong to kill all five of Potsdam's power plays. Ryder made 10 saves in the scoreless third period as she turned away an anxious Bears attack. The shutout is Hamilton's second this season.
Hamilton (8-7-2 overall) ran its unbeaten streak to six games. The Continentals, who are 4-0-2 during the streak, last recorded a six-game unbeaten string at the end of the 2003-04 regular season, when the team won six in a row. Potsdam fell to 3-10-2.
Hamilton skated out to a 2-0 lead after one period. Stephanie Miguel '11 knocked in an unassisted goal just 2:51 into play to open the scoring. She picked up a loose puck in the Potsdam zone, weaved around two defenders in the slot and fired a wrist shot past the Bear netminder.
Miguel has seven points in Hamilton's last two games. She leads the team with 15 goals and 29 points.
Miguel and Kathryn Kroleski '09 set up Christie Sharlow '11 for the hosts' second goal at 7:24. Kroleski sent a cross-ice pass to Sharlow, who was positioned at the bottom of the left circle, and Sharlow redirected the pass into the open net. The goal was Sharlow's seventh this season.
Kroleski's second assist came on a hard shot from the left circle that was tipped between the goalie's pads and into the back of the net by Amy Allen '10, who was parked in front of the crease. Allen's 10th goal this season came 5:34 into the second period.
Hamilton scored its final goal while the Continentals were shorthanded. Becky Cairns '11 scored her second goal this season after she received the puck from Rachel Rapoza '10 at Hamilton's blue line and skated in on a breakaway one-on-one with the goalie. Her shot was partially stopped, but the puck trickled across the line at 11:06 of the second.
Hamilton returns to New England Small College Athletic Conference action this weekend, as the Continentals host Connecticut College on Friday, Jan. 30.