Women's ice hockey blanks Wesleyan
---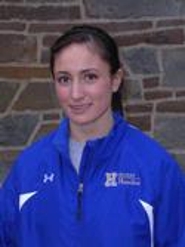 Stephanie Miguel '11 led Hamilton College with one goal and one assist, as the Continentals defeated host Wesleyan University 2-0 in a New England Small College Athletic Conference game at Wesleyan's Spurrier-Snyder Rink on Feb. 19.

Julia Beaty '13 scored the other goal for Hamilton. Becca Hazlett '13 played the opening 33 minutes, 11 seconds, and turned aside nine shots. Meg Shine '10 came in during the second period and played the final 26:49. Shine stopped all six shots that she faced. The Continentals, who haven't allowed a goal in more than 120 minutes, are locked in as the sixth seed for the NESCAC championships.
Miguel put Hamilton (11-9-3 overall, 5-7-3 NESCAC) on the scoreboard 6:11 into the first period. She took a pass from outside the blue line from Meredith Bitterman '12, and skated in on the right side during a Wesleyan power play to score in close on a backhander. It was Miguel's 10th goal of the season. She now leads the Continentals with 28 points.
With 6:18 remaining in the second period, Beaty made the score 2-0 with her second goal of the year. After Wesleyan's goalie made a save, Miguel chased down the loose puck and spotted Beaty in the slot, who put home a quick wrister. Riley Smith '12 was also credited with an assist.

Wesleyan (4-17-1, 2-13-0) pulled its goalie for the final 1:25 of the third period, but could not even manage a shot as Hamilton kept the Cardinals' attack at bay. The Continentals enjoyed a 41-15 advantage in shots on goal. Both Hamilton and Wesleyan were 0-for-3 with the extra skater. The Continentals extended their win streak against the Cardinals to seven games, and hold a 16-9-1 overall lead in the series.

Hamilton travels to play another NESCAC game against Trinity College on Saturday, Feb. 20.