Women's ice hockey can't hold off Elmira
---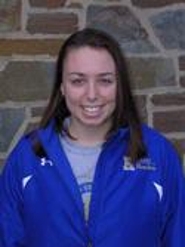 Madison Johnston recorded a hat trick to lead nationally ranked No. 6 Elmira College to a 6-3 come-from-behind win against Hamilton College in a non-conference game at Elmira's Murray Athletics Center on Jan. 8.

Samantha Curk and Ella Stewart added one goal and one assist apiece for Elmira, which improved to 4-1-0 at home. Samantha Maguire made 23 saves.

Hamilton (4-6-0 overall) was led by Stephanie Miguel '11 and Katie Zimmerman '13 with one goal and one assist apiece. Miguel has two goals and two assists in two games. She missed the first eight with an injury she suffered the day before the first game of the season. Nikki Haskins '14 was credited with two assists. The Continentals led 2-1 after two periods.

The Soaring Eagles (10-4-1) held a 15-4 shot advantage in the first period, but neither team scored, Elmira grabbed a 1-0 lead on a power-play goal by Johnston at 7:19 of the second period. Gigi Fraser '14 tied the score with her second goal for Hamilton at 10:59, and Miguel made the score 2-1 with 7:47 left in the period.

The Soaring Eagles exploded for five goals in the final 20 minutes. Johnston's second of the night tied the score just as an Elmira penalty expired at 7:32. Stewart's first goal of the season put the Soaring Eagles in front for good with 8:55 remaining. A power-play goal by Tanis Lamoureux made the score 4-2 with 4:41 left.

The Continentals were still within a goal after Zimmerman scored her third of the season 32 seconds later. Hamilton pulled Becca Hazlett '13 (44 saves) with 1:35 left for an extra skater, but Elmira clinched the victory with two goals in the final 40 seconds, including one on the empty net.

The Soaring Eagles enjoyed a 50-26 shot advantage, and were 2-for-9 on the power play. Elmira killed all six of the Continentals' chances.

Hamilton hosts Bowdoin College for a New England Small College Athletic Conference game on Saturday, Jan. 15.