Women's ice hockey clips Cortland
---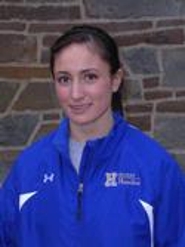 Stephanie Miguel '11 posted one goal and one assist to lead Hamilton College to a 3-1 win against SUNY Cortland in a non-conference game at Cortland's Alumni Arena on Jan. 5.

Hamilton (4-5-0 overall) won for the fourth time in its last five games. Miguel made her first appearance this season after the 2009 All-American broke a bone in her hand the day before the first game back in mid-November.

Becca Hazlett '13 turned aside 15 shots for the Continentals. Hazlett, the 2009-10 New England Small College Athletic Conference rookie of the year, lowered her goals against average to 3.01 and raised her save percentage to .893.

Christie Sharlow '11 and Nikki Haskins '14 scored one goal each and both have two this season. Laura DiCarlo '12, Abby Runyon '13 and Stephanie Lang '14 collected one assist apiece. Lang leads the team with four assists and seven points.

Ashley Meyer '12 scored Cortland's goal with Jen Whelan '12 and Allie Beall '14 recording assists. Sarah Sitcov '13 made 34 saves, including 22 in the second period.

After a scoreless first period, Haskins gave the Continentals a 1-0 lead at seven minutes, 13 seconds of the second when she knocked in a loose puck in front. Miguel upped the lead to 2-0 at 17:26 after she scored all alone in front following a Cortland turnover at the blue line. Hamilton finished the period with a 24-4 shot advantage.

Early in the third period, Hamilton received a five-minute major penalty, but Hazlett denied three Cortland chances before Sharlow netted a short-handed goal at 7:59 just nine seconds before the penalty expired. Meyer put Cortland on the scoreboard at the 9:33 mark when she skated off the bench and one-timed a shot from the high slot into the upper left corner. The Red Dragons (1-7-2) held a 9-7 shot advantage in the third period.

The Continentals travel to Elmira College for another non-conference game on Saturday, Jan. 8.