Women's ice hockey coach takes assistant job at Syracuse University
---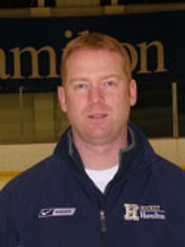 Brendon Knight, head women's ice hockey coach at Hamilton College for the past six seasons, has accepted an assistant coaching position with the Syracuse University women's hockey program.

Knight guided the Continentals to 57 wins and six appearances in the NESCAC championship. He coached the program's first All-American and its first NESCAC player of the year in 2008-09, and the 2009-10 NESCAC rookie of the year.

Hamilton recorded a pair of program milestones under Knight in 2010. In February, the Continentals defeated Middlebury College for the first time since the program achieved varsity status in 1996-97, and in December Hamilton defeated Bowdoin College for the first time since 1997.

Knight's first postseason game behind the bench was on Feb. 24, 2007. The Continentals came away with a 4-3 overtime victory at home against Colby College in the first round of the NESCAC championship.

Knight's coaching career at Hamilton began as a men's hockey assistant in 2005-06. A national search for his replacement has already begun.