Women's ice hockey four-goal flurry keys win over SUNY Cortland
---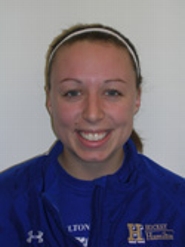 Katie Zimmerman '13 scored two goals and added two assists to lead Hamilton College to a 6-1 win over SUNY Cortland in a non-conference game at Cortland's Alumni Arena on Jan. 6.

Zimmerman surpassed the 50-point mark for her Hamilton career and currently sits at 52. She has nine points in the Continentals' last three games.

Hannah Jaiven '14 added a goal and two assists. Riley Smith '12 and Laura DiCarlo '12 chipped in one goal and one assist apiece, and Abby Runyon '13 scored a goal. Emily Baxter '13, Stephanie Lang '14 and Jill Tokarczyk '14 tallied one assist each. Becca Hazlett '13 stopped 13 shots through the first two periods to earn the win. Tori Bogen '14 turned aside both shots she faced in the final period.

Kellie Micillo scored the lone goal for the Red Dragons. Chelsey Wright and Gina Tomei were each credited with an assist, and Katie Double made 44 saves.

Cortland (2-6-1 overall) got on the board first at 7:03 of the first period when Micillo scored off a deflection in front of the net. The Red Dragons led 1-0 at the first intermission.

Hamilton (3-4-0) evened the score at 13:39 of the second when Jaiven scored her first collegiate goal on a wrist shot in traffic. Lang was credited with an assist on the play. The Continentals took the lead for good with 1:34 left in the period when Smith knocked in a loose puck in front of the Cortland net. Zimmerman assisted on the goal. Hamilton led 2-1 at the second intermission.

The Continentals broke things open with four goals in an 8-minute, 7-second span at the start of the third period. DiCarlo banged home a rebound just 25 seconds into the period to make it 3-1. Tokarczyk and Zimmerman were credited with assists. Zimmerman scored a goal off Jaiven's rebound at 2:56 to put Hamilton up 4-1.

Zimmerman scored a power-play goal at 5:30 off assists from DiCarlo and Jaiven for a four-goal cushion. The Continentals finished 1-for-3 on the power play. Runyon finished the scoring with a one-timer off assists from Baxter and Smith at 8:32 of the third.

Hamilton held a commanding 50-16 shot advantage, and leads the all-time series 13-0-0. Cortland has lost six straight games.

Hamilton hosts Cortland in the second game of this weekend home-and-home series on Saturday, Jan. 7, at 7 p.m.