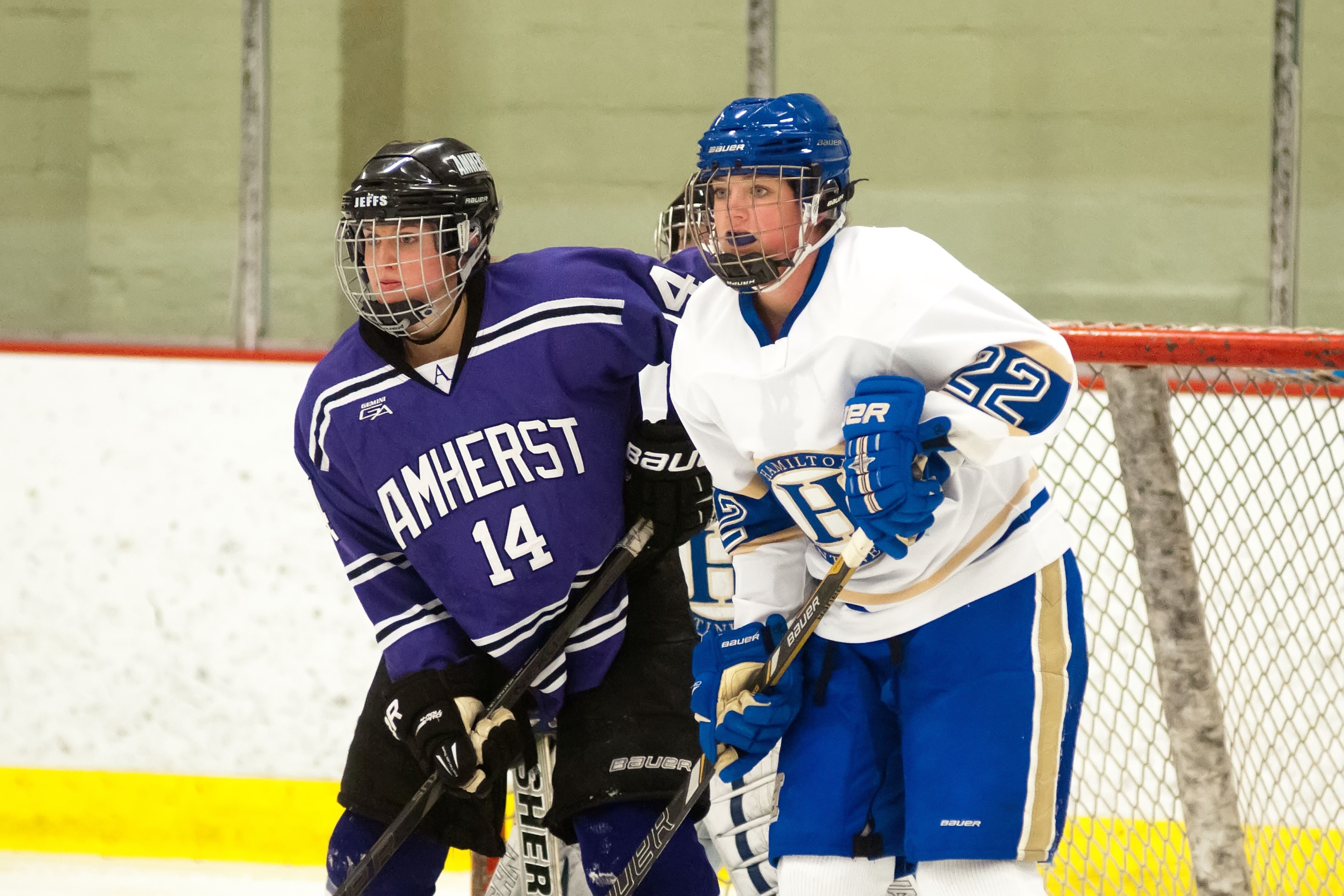 The Hamilton College women's hockey team posted its first win of the season, blanking host SUNY Canton 6-0 in non-conference action on Saturday afternoon.

Box score

The shutout was the first for the Continentals (1-4-2 overall) on the road since whitewashing SUNY Cortland 4-0 on Jan. 8, 2013.

Jade Alvillar '18, Mairead Carey '18 and Steph DiPietro '18 each scored their first career goals and Megan Ahern '17 collected three assists to lead Hamilton, which outshot the host Kangaroos 37-9.

Sarah Schuchardt '15 earned her first career shutout by turning away nine shots. She lowered her goals-against average to 1.35, good for 12th in Division III. Schuchardt also ranks 13th in save percentage (.944).

Hannah Bartlett '16 contributed a goal and an assist, giving the Continentals the lead for good with the only goal of the opening period. She scored her third goal of the season – tied for the team lead – at 9:00 off assists from Ahern and Alvillar.

Alvillar, Carey and Sara Taffe '17 all finished with a goal and an assist. Carey converted a pass from Megan Fitzgerald '16 at 6:49 of the second period and Avillar put the Continentals up 3-0 just under four minutes later. Bartlett and Katie Parkman '17, both of whom have scored a team-best five points this winter, assisted on Alvillar's goal. Ianthe Lekometros '16 picked up Hamilton's third goal of the second period with 5:36 left. Ahern and Carey were credited with assists.

Taffe had a hand in both of the third-period goals. She converted passes from Ahern and Teal Gosselin '17 with 3:07 left, and assisted on DiPietro's power-play goal 1:37 later. Casey Brown '16 also assisted on the game's final goal.

Ahern's three assists were the program's highest single-game total since Bartlett assisted on three goals in a 5-4 overtime win at Colby College on Feb. 17, 2013.

Hamilton killed all five Canton power-play opportunities. The Continentals' penalty kill unit ranks 10th nationally, thwarting 91.7 percent of opponent power plays.

Rebecca DiNardo '18 made 31 saves for the Kangaroos (1-9-2).

The Continentals will be idle for a month, returning to action on Tuesday, Jan. 6, with a non-conference game at SUNY Cortland. The Kangaroos host Franklin Pierce on Friday.