Women's ice hockey cruises to win over SUNY Oswego
---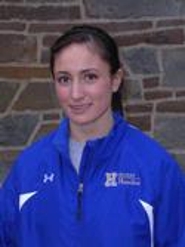 Abby Runyon '13 and Stephanie Miguel '11 each scored two goals to lead Hamilton College to a 5-2 win over SUNY Oswego in a non-conference game at Oswego's Campus Center Ice Arena on Feb. 10.
Miguel also added one assist for the Continentals (9-8-3 overall). She leads the team with 16 assists and 24 points. Christie Sharlow '11 scored one goal and assisted on two others. Katie Zimmerman '13 tallied three assists, and Becca Hazlett '13 stopped 24 shots. Hazlett is ranked sixth in NCAA Division III with a .939 save percentage.
Runyon started the scoring for Hamilton with a power-play goal 5 minutes, 1 second into the first period. SUNY Oswego was whistled for a hooking penalty at 4:48. On the ensuing faceoff, Runyon scored on a rebound from left of the net after a shot by Amy Allen '10 from the blue line. Sharlow also earned an assist.

Runyon added her second goal of the game and fifth of the season on another power play. The goal came after a scramble in front of the net at 10:44 in the second. Miguel and Zimmerman were credited with the assists.
SUNY Oswego (7-13-1) scored a power-play goal of its own 15:57 into the second to make the score 2-1. The Continentals then took control with three goals in the third period.

Miguel put Hamilton up 3-1 at 7:13 of the third after she received a pass from Meredith Bitterman '12 and placed a shot through the goalie's legs. After one of the Lakers was sent to the penalty box for interference, Hamilton capitalized with the extra-skater for a third time as Miguel scored her eighth goal of the season at 11:25. Sharlow and Zimmerman earned the assists.
SUNY Oswego made the score 4-2 with 1:18 left. The Lakers then called a timeout and pulled their goalie for an extra skater. But with just two seconds left, Zimmerman sent the puck ahead to Sharlow, who scored her fifth goal on an empty-net goal to seal the win.
The Continentals were 3-for-5 on the power play, while the Lakers were 1-for-4. Oswego held a slight 26-24 advantage in shots on goal.
Hamilton will play a NESCAC game at Connecticut College on Friday, Feb. 12.