Women's ice hockey defeats local rival Utica
---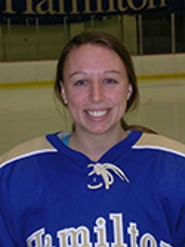 Katie Zimmerman '13 posted two goals and one assist as Hamilton College held off Utica College 3-1 in a non-conference game at the Utica Memorial Auditorium on Dec. 8.

Hamilton (6-2-0 overall) is off to its best eight-game start in program history under the direction of first-year head coach Emily McNamara. Zimmerman, who has a team-high 11 goals, ranks first in Division III with 1.38 goals per game. She moved into fifth place on the team's all-time list with 47 career goals.

Nikki Haskins '13 notched one goal and one assist and Naomi Woolfenden '16 picked up an assist. Becca Hazlett '13 stopped 27 shots for the win, lowered her goals against average to 2.00 and raised her save percentage to .907.

Louise Steele-Norton '15 scored her first goal this season and Meghan McMahon '13 and Caitlyn Moccaldi '14 picked up one assist apiece for the Pioneers. Marissa Hotaling '13 made 20 saves.

Zimmerman notched her first goal with 5:34 left in the first period. She skated with the puck from her defensive zone and backhanded a shot off the post for a 1-0 lead.

Zimmerman made it 2-0 with just 24 seconds left in the second period on the team's fourth power play of the afternoon. Haskins and Woolfenden earned the assists and Hamilton had a two-goal lead through two periods.

The Pioneers (4-4-0) cut their deficit in half 9:03 into the third period. Moccaldi passed the puck to McMahon in the neutral zone. After drawing a defender, she slid a pass to Steele-Norton, who squeezed a shot inside the left post.

Both teams came away empty on power-play chances later in the period. Utica elected to pull Hotaling with 1:07 left in favor of the extra skater and the Pioneers had a number of scoring chances in the final minute. But Hazlett came up big, and Zimmerman was able to get the puck out of the zone to Haskins, who scored on an empty net with 19 seconds remaining.

Utica held a 28-23 shot advantage, but was held scoreless on two power-play opportunities. Hamilton converted 1 of 6 power-play chances.

Hamilton breaks for finals and resumes play on Saturday, Jan. 5, for another non-conference game at Elmira College.