Women's ice hockey defeats SUNY Cortland
---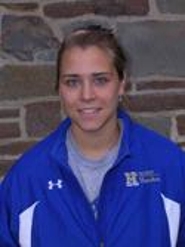 Amy Allen '10 scored two goals, including the game-winner late in the third period, to lead Hamilton College to a 3-2 win over host SUNY Cortland in a non-conference game at Alumni Arena on Jan. 8.
Christie Sharlow '11 added a goal for the Continentals (2-4-2 overall). Stephanie Miguel '11 recorded three assists, while Laura Stirrat '10, Becky Cairns '11 and Katie Zimmerman '13 registered one assist each. Becca Hazlett '13 turned aside 20 shots.

Sharlow gave Hamilton a 1-0 lead with just 16 seconds remaining in the opening period when she scored from right in front. SUNY Cortland (3-8-0) tied the score 11 minutes, 40 seconds into the second period with a hard wrist shot from the high slot. Allen notched her first goal of the game on the power play with 2:57 left in the second when she sent a wrist shot into the upper right corner from the left circle.

The Red Dragons tied the score for the second time with 3:40 remaining in the third period, as they converted a 2-on-1 from the right face-off circle 18 seconds after Hamilton went on a power play. Allen, however, netted the game-winner 15 seconds later on a loose puck in front. The Continentals took an interference penalty with 1:52 remaining, and Cortland pulled its goalie with 53 seconds left. The Red Dragons kept the puck in Hamilton's defensive zone but were unable to score the equalizer.
The Continentals were 2-for-3 on the power-play and held a 27-22 advantage in shots on goal. The teams play again Saturday, Jan. 9, at Hamilton's Russell Sage Rink at 7 p.m.