Women's ice hockey downed at No. 7 Amherst
---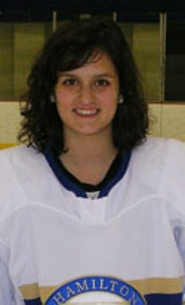 Nationally ranked No. 7 Amherst College scored three goals in the second period and cruised to a 4-1 win against Hamilton College in a NESCAC game at Amherst's Orr Rink on Nov. 19.

The Jeffs (2-0-0 overall and NESCAC) defeated Hamilton for the second straight day. Amherst won 5-1 at Hamilton on Friday. The Jeffs enjoyed a 47-13 shot advantage, and held the Continentals scoreless on five power-play opportunities.

Josie Fisher led the Amherst offense with one goal and one assist. Melissa Martin, Ellen Swiontkowski and Tori Salmon scored one goal each. Ashley Salerno was credited with two assists. Kerri Stuart turned away 12 shots.

Stephanie Lang '14 scored 10 seconds into the third period for Hamilton. Ingrid Kelly '15 and Laura DiCarlo '12 picked up the assists. Kelly's point is her first with the Continentals. Becca Hazlett '13 made 43 saves, including 19 in the second period.

After a scoreless first period, the Jeffs broke the ice at 3:28 in the second with Salmon's first goal this season while the teams skated 4-on-4. Martin made the score 2-0 with a power-play tally at 7:31, and Swiontkowski notched a short-handed goal with 4:37 left in the second.

Lang cut the deficit to 3-1 with her first goal of 2011-12. Fisher clinched the win with her second goal this season on an assist from Geneva Lloyd with 10:07 left during another 4-on-4 situation.

Hamilton (0-2-0, 0-2-0) is off until Tuesday, Nov. 29, when the Continentals play a non-conference game at Utica College.