Women's ice hockey downs Williams
---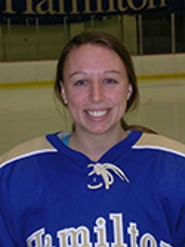 Katie Zimmerman '13 tallied one goal and one assist and Hamilton College topped Williams College 3-1 in a NESCAC game at Williams' Lansing Chapman Rink on Jan. 11.

Hamilton (8-3-0 overall, 3-2 NESCAC) continued its hot start with the Continentals' fourth win in their last five games. Hamilton has won three of its last four against the Ephs.

Abby Runyon '13 and Jill Tokarczyk '14 added goals for the Continentals, and Nikki Haskins '14 was credited with an assist. Becca Hazlett '13 needed to make just nine saves for the win. Hazlett's goals against average dropped to 1.81 this season and her save percentage stands at .912.

Cristina Bravi scored Williams' goal. Sam Weinstein and Caitlin Conlon each tallied an assist. Chloe Billadeau stopped 19 shots in 58 minutes, 20 seconds.

Hamilton grabbed a 1-0 lead 9:35 into the first period when the Continentals enjoyed a 5-on-3 power play. Zimmerman's initial shot was deflected by Billadeau, and Runyon gathered the puck and scored into the top right shelf. Haskins earned an assist on the play. The Continentals owned an 8-1 shot advantage in the period.

Williams (6-5-0, 3-2) began the second period on the power play and took full advantage of the opportunity. Just 47 seconds into the frame, Bravi tied the score. Weinstein sent a pass from the left side to Bravi near the back post for the equalizer.

With 65 seconds remaining in the period, Tokarczyk tallied an unassisted goal that proved to be the game-winner. As Tokarczyk was falling down, she was able to get off a wrist shot that trickled underneath Billadeau for the 2-1 lead.

The Continentals went on the power play again with 6:26 left in the third period and Zimmerman added an insurance goal with 5:38 remaining. Zimmerman leads Division III with an average of 1.18 goals per game and she has scored a total of 13.

Hamilton enjoyed a 22-10 shot advantage and was 2-for-5 on the power play. Williams converted 1 of 4 power-play opportunities.

The two teams play again in Williamstown, Mass., on Saturday, Jan. 12.