Women's ice hockey falls at Amherst in NESCAC quarters
---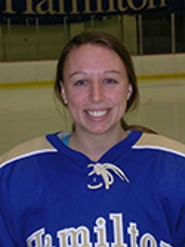 Amherst College's Megan Doyen and Courtney Baranek netted two goals apiece in the Lord Jeffs' 5-1 victory over Hamilton College in a 2013 NESCAC Championship quarterfinal at Amherst's Orr Rink on Feb. 23.

The Jeffs (13-10-1 overall) are the No. 3 seed in the championship and will play No. 2 seed Bowdoin College in a NESCAC semifinal on Saturday, March 2, at Middlebury College. Amherst is seeking its fourth conference title and the team's first since 2010.

Hamilton (13-11-1), which was the No. 6 seed, ended 2012-13 tied for the most wins in a season in program history. The Continentals opened their season with a 6-5 loss at Amherst on Nov. 16 before they defeated the Jeffs 4-3 in overtime the following day at home.

Geneva Lloyd scored the other goal for Amherst. Kaitlyn McInnis recorded two assists and Eileen Harris, Tori Salmon and Madeline Tank were each credited with one. Lloyd leads all NESCAC defenders with 27 points and Salmon is tied for the conference lead in assists with 18. Kerri Stuart turned away 18 shots for her 11th win in goal this season.

Katie Zimmerman '13 tallied Hamilton's goal and Nikki Haskins '14 had her eighth assist. Zimmerman tops the NESCAC with 21 goals and finished her 99-game career with 57 goals and 97 points. Becca Hazlett '13 stopped 21 shots in 58-plus minutes of action.

Doyen opened the scoring for Amherst 3:59 into the first period after she finished off a scramble by the left post. The assists went to McInnis and Harris. The Jeffs went up 2-0 at 7:30 of the first on Baranek's first goal of the night. Baranek beat Hazlett after another scramble in the middle, and Tank and Salmon were credited with the assists.

The Continentals held a 10-9 edge in shots in the second period, but Amherst scored the lone goal. Lloyd gathered a loose puck near the Hamilton blue line and took it all the way to the slot where she fired a shot into the back of the net for her 13th goal at 8:59 of the second.

The Continentals cut their deficit to 3-1 on Zimmerman's goal 7:09 into the third period. Zimmerman collected a loose puck at the top of the left faceoff circle, skated to the slot and beat Stuart to the lower left corner.

The Jeffs added an insurance goal on Doyen's 13th this season with 3:08 remaining. From the left corner, McInnis fed Doyen for a shot from close range. Hamilton pulled Hazlett with 72 seconds left and Baranek rounded out the scoring with a short-handed, empty-netter for her sixth goal with 59 seconds to go.

Amherst enjoyed a 26-19 shot advantage, and both teams were 0-for-3 on the power play.