Women's ice hockey drops home opener to Elmira
---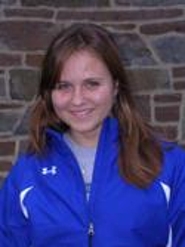 Nationally ranked No. 3 Elmira College scored three goals in the third period and pulled away to a 5-1 non-conference win against host Hamilton College at Russell Sage Rink on Nov. 24.

Elmira (4-2 overall) grabbed a 1-0 lead at 6 minutes, 55 seconds of the first period on a power-play goal. The Soaring Eagles scored on a wrist shot from above the left circle that beat goalie Becca Hazlett '13 high on the glove side. Hazlett was screened by an Elmira player on the shot. The Soaring Eagles made the score 2-0 at 5:31 of the second period when they poked in a rebound after a shot was saved by Hazlett.

Elmira continued to pour it on in the third period. Just 33 seconds in, the Soaring Eagles got off a soft shot from just outside the crease that Hazlett partially stopped. The puck continued to trickle towards the goal line, and an Elmira player was there to swipe it into the back of the net from the right side. Another power-play goal for the Soaring Eagles made the score 4-0 at 4:26.

The Continentals (0-3) ended their season-opening scoreless streak with 4:10 left in the period. Amy Allen '10 fired a slap shot from above the right circle that the goalie stopped, but couldn't control. Kayla Safran '13 was waiting in front for the rebound and her first collegiate goal.

Elmira put an exclamation point on the victory with 29 seconds remaining when a player got loose on a breakaway and placed a low wrist shot between Hazlett's pads. Hazlett finished with 32 saves. The Soaring Eagles enjoyed a 37-24 advantage in shots.

Hamilton hosts Wesleyan University for a New England Small College Athletic Conference game on Saturday, Nov. 28, at 5 p.m.