Women's ice hockey drops season opener
---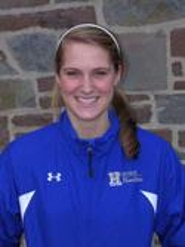 Nationally ranked No. 7 Middlebury College scored two power-play goals in the first two periods and went on to a 3-0 win against Hamilton College in a New England Small College Athletic Conference game at Hamilton's Russell Sage Rink on Nov. 19.

Middlebury (1-0-0 overall, 1-0 NESCAC) recorded one goal in each period. Heidi Woodworth '11 notched two goals for Middlebury. Woodworth's first goal came 8:49 into the first period. Heather Marrison '13 and Madeline Joyce '14 were credited with assists.

Woodworth scored another goal 4:01 into the second period. Anna McNally '11 and Morrison were credited with assists. Julia Ireland '11 scored an unassisted goal 7:02 into the third period to provide the final margin.

Becca Hazlett '13 made 43 saves for the Continentals (0-1-0, 0-1), and Alex Bloom had 22 saves for the Panthers. Middlebury was 2-for-8 on the power play. Hamilton received five power-play opportunities.

Hamilton will host Williams College on Saturday, Nov. 20, for another NESCAC contest.