Women's ice hockey edged by No. 4 RIT
---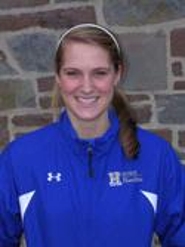 Rochester Institute of Technology scored just one goal and its defense did the rest as the nationally ranked No. 4 Tigers edged visiting Hamilton College 1-0 in a non-conference game at Frank Ritter Memorial Ice Arena on Jan. 12.

RIT's goal came 6 minutes, 10 seconds into the final period. Becca Hazlett '13 was spectacular in goal for Hamilton, as she made a season-high 49 saves, including 21 in the second period. The Continentals (3-5-2 overall) pulled Hazlett for the final 20 seconds, but even with the extra skater, could not net the equalizer to send the game to overtime.

RIT (8-2-3) finished 0-for-5 on the power play and Hamilton was 0-for-4. The Continentals travel to Colby College for a New England Small College Athletic Conference game on Friday, Jan. 15.