Women's ice hockey edged by Wesleyan
---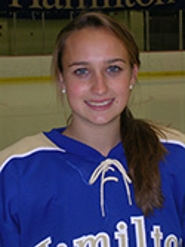 Wesleyan University's Cara Jankowski '15 scored two goals, including the game-winner with 2:56 left in the third period, and the Cardinals topped Hamilton College 2-1 in a NESCAC game at Hamilton's Russell Sage Rink on Feb. 1.

The Cardinals (6-12-0 overall, 2-9 NESCAC) have won two in a row after they dropped their previous six games. Wesleyan has also won two straight against the Continentals after a 10-game losing streak to Hamilton that dated back to 2006-07.

Laura Mead '16 recorded assists on both goals, and Jordan Schildhaus '15 added one on the game-winner for the Cardinals. Ashleigh Corvi '13 made 42 saves and improved her save percentage to .920.

Nikki Haskins '14 scored Hamilton's goal and Abby Runyon '13 earned an assist. Becca Hazlett '13 stopped 10 shots in 58 minutes, 56 seconds of action between the pipes.

Wesleyan struck first at 3:46 of the opening period with its first shot on goal. Jankowski dumped the puck behind the net where Mead collected it and skated to the right corner. She sent the puck back to Jankowski behind the goal, and Jankowski skated to the crease and slid a shot under Hazlett's legs. Corvi turned away all 12 shots in the first to preserve the 1-0 lead.

Hamilton (10-7-1, 4-6-1) owned a 20-4 shot advantage in the second period but didn't capitalize. The Continentals racked up eight shots on successive power plays from the 10:34 mark until 4:54 remained in the period. The best chance was when Haskins held the puck behind the net and centered it to Jill Tokarczyk '14, but Corvi made a glove save to keep it a 1-0 game.

The Continentals finally broke through 2:43 into the third period when Haskins scored the equalizer. Runyon stole the puck in Wesleyan's defensive zone and fired a backhand that Corvi denied, but Haskins was there to clean up for her eighth goal this season.

Jankowski added her second goal of the night and sixth this season after she put back a rebound off a shot by Schildhaus. Mead was able to get a pass off as she was falling down by the goal line and the puck slid behind Hazlett. Hazlett made the initial save but couldn't stop Jankowski's shot.

With 57 seconds remaining, Hamilton elected to pull Hazlett in favor of the extra skater. Icing was called on the Cardinals, and it put the faceoff in the Continentals' offensive zone with 23 seconds left. But Hamilton didn't register a shot on goal as time ran out.

Hamilton posted a 43-12 shot advantage but was 0-for-4 on the power play. The Continentals killed both of Wesleyan's chances. The teams play again in Clinton on Saturday, Feb. 2.