Women's ice hockey falls at No. 5 Middlebury
---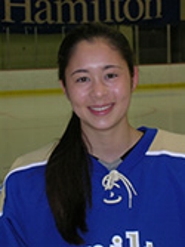 Katie Sullivan led Middlebury College with two goals and an assist, and the nationally ranked No. 5 Panthers defeated Hamilton College 5-2 in a NESCAC game at Middlebury's Kenyon Arena on Jan. 25.

Emily Fluke tallied two goals and Jennifer Krakower notched the other for the Panthers. Lauren Greer and Madison Styrbicki were credited with two assists apiece. Laura Pinsent made 18 saves and improved her record to 6-0 in goal.

Hannah Jaiven '14 and Naomi Woolfenden '16 scored one goal apiece for Hamilton. Emily Baxter '13, Julia Beaty '13, Abby Runyon '13 and Megan Fitzgerald '16 picked up one assist each. Becca Hazlett '13 turned away 21 shots.

Middlebury (11-2-2 overall, 8-1-2 NESCAC) grabbed a 1-0 lead 7:15 into the first period on the second goal this season by Krakower. Sullivan held the puck during a line change and then picked up the rebound after a wide shot caromed back to her. She quickly found Krakower in the slot for her eighth assist. The lead increased to 2-0 with 7:32 left in the first when Sullivan scored on a centering pass from Greer.

Hamilton (9-5-1, 4-4-1) made it a one-goal game 9:46 into the second period. Jaiven netted her third this season through traffic after a faceoff win by Runyon. The Panthers regained their two-goal lead on the power play as Fluke scored on a rebound with 7:19 remaining in the period.

The Panthers had a great chance to increase their lead early in the third period, but a penalty shot by Sara Ugalde was stopped by Hazlett. The Continentals cut their deficit to one again with a power-play goal at 6:10 of the third. Woolfenden netted her third this season from the center point after a feed from Beaty.

Middlebury answered with 8:13 left as Sullivan scored from the right circle for her second goal of the night and fifth this season to make it 4-2. The Panthers struck again just 15 seconds later. Styrbicki sent in the original shot that Fluke tipped past Hazlett for Fluke's team-leading ninth goal.

Middlebury held a 26-20 shot advantage, and was 1-for-2 on the power play. The Continentals scored one power-play goal in three opportunities. Hamilton entered the night ranked sixth in Division III on the power play at 24.1 percent.

The two teams play again at Middlebury on Saturday, Jan. 26, at 3 p.m.