Women's ice hockey tripped up at Trinity
---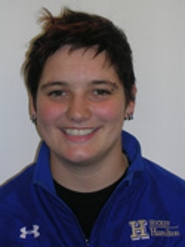 Alexa Pujol made 23 saves to lead Trinity College to a 3-1 win over Hamilton College in a NESCAC game at Trinity's Williams Rink at Koeppel Community Sports Center on Jan. 20.

Abby Ostrom, Lauren Glynn and Payson Sword each scored a goal for the Bantams, and Lucy Robinson tallied two assists. Ostrom has scored four goals in the past three games. Glynn and Sword are tied for the team lead with nine points.

Kristen Pallen '12 scored her second goal of the season for the Continentals. Ingrid Kelly '15 was credited with the assist. Becca Hazlett '13 made 20 saves in goal.

Pallen's goal gave Hamilton (6-7-0 overall, 3-4 NESCAC) the lead just 5:55 into the first period. Trinity responded at 10:19 of the period when Ostrom scored her fifth goal of the season to tie the game at 1. The score remained tied through the first intermission.

The Bantams (7-7-0, 3-4) took advantage of a power-play opportunity at 6:29 of the second when Sword found the back of the net with a slap shot from the blue line. Trinity led 2-1 at the second intermission.

Pujol made two exceptional saves in the third period to protect the Bantams' one-goal lead. The first came at 2:30 of the period when Pujol made a glove save on a well-placed shot by Abby Runyon '13. The second was on a shot by Katie Zimmerman '13 with 5:58 to play. Glynn added an insurance goal for Trinity on a pass from Robinson with 5:24 left.

Hamilton held a 24-23 shot advantage, and was 0-for-5 on the power play, while Trinity was 1-for-5. The Continentals lead the all-time series 15-11-1.

Hamilton takes on Trinity in another NESCAC game on Saturday, Jan. 21, at 3 p.m.