Women's ice hockey falls in OT to No. 2 Middlebury
---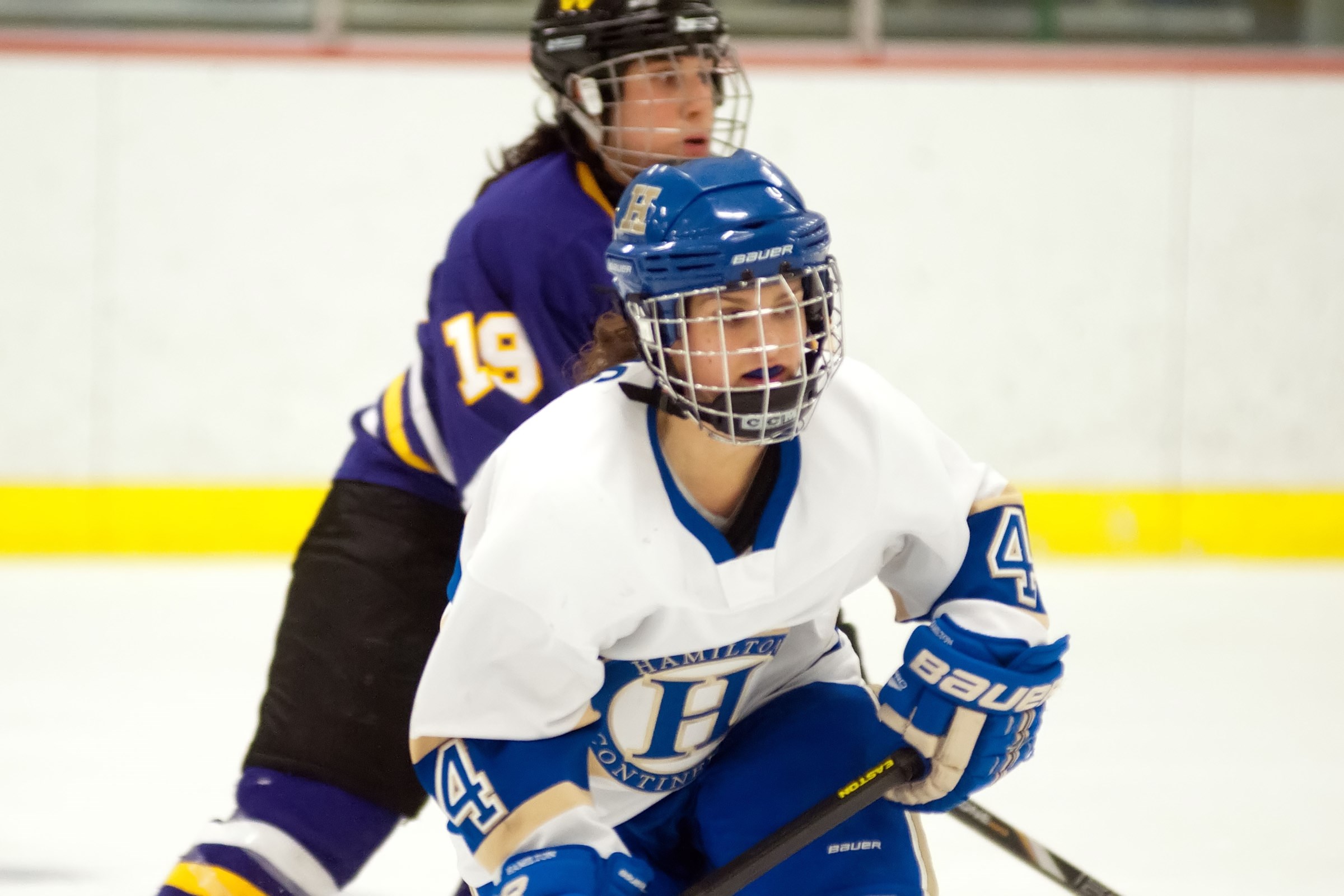 Middlebury College's Emily Fluke '15 scored 17 seconds into the sudden-victory overtime period and lifted the nationally ranked No. 2 Panthers to a 3-2 NESCAC win against the Hamilton College Continentals at Hamilton's Russell Sage Rink on Feb. 1.

Box Score

Fluke finished with a pair of goals and has nine this season. Madeline Joyce '14 assisted on the overtime goal and ended up with two helpers. Laura McConney '15 tallied her first goal this season and Sara Ugalde '14, Jennifer Krakower '14 and Carly Watson '17 added one assist apiece. Madeline Marsh '15, who entered the day with a 0.67 goals against average and .961 save percentage, made 18 stops.

Stephanie Lang '14 paced the Continentals' offense with one goal and one assist. Megan Ahern '17 notched her first goal at Hamilton, and Courtney Power '15 and Jill Tokarczyk '14 chipped in one assist apiece. Tori Bogen '14 turned away 23 shots, including nine in the third period.

In overtime, Fluke floated a seemingly harmless backhand shot that bounced on the ice towards Bogen. She covered the puck but somehow it slid underneath her and across the goal line.

After a scoreless first period, Middlebury (13-1-3, 9-0-3 NESCAC) grabbed a 1-0 lead with a power-play goal at 5:40 of the second. Fluke corralled a shot that missed the net and caromed off the boards, and she flicked the puck into an open net from the right side of the bottom of the slot. McConney gave the Panthers a two-goal cushion on a slap shot from above the right faceoff circle with 8:33 left in the period.

The Continentals (6-10-2, 0-8-2) cut their deficit in half with 5:17 left in the second period. A pass by Power up the ice caught up to Lang, who was a step behind the Middlebury defense. Lang skated in on the breakaway and buried her chance for her sixth goal this season. The goal ended a nearly 95-minute scoring drought for Hamilton against the Panthers.

Hamilton tied the score with 5:04 to go in the third period and just six seconds after a Panthers' two-minute penalty expired. Ahern gathered a loose puck after Marsh had already made one save, and she put the rebound into the back of the net from close range. Middlebury killed another power-play chance for the Continentals that covered most of the final two minutes of regulation. Hamilton didn't get a shot off during that power play.

The Panthers held a 26-20 shot advantage and they were 1-for-5 on the power play. The Continentals were held scoreless in four chances. Middlebury leads the all-time series, 33-2-0.

Hamilton travels to Wesleyan University for more NESCAC action on Friday, Feb. 7. The Panthers host Utica College for a non-conference game on Tuesday, Feb. 4.