Women's ice hockey falls to local rival Utica
---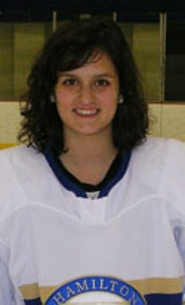 Megan Myers scored two goals and assisted on another to lead Utica College to a 5-3 win against Hamilton College in a non-conference game at the Utica Memorial Auditorium on Nov. 29.

Utica (4-6-0 overall) broke open a close game with three goals in the third period. Myers posted one goal and one assist during the final 20 minutes.

Carmen Johnson chipped in two goals and Louise Steele-Norton added one goal and one assist. Meghan McMahon was credited with three assists and Meredith Tice had two. Jennifer Hamel turned away 29 shots.

Hamilton (0-3-0) was paced by Stephanie Lang '14, who boasted one goal and one assist. Ingrid Kelly '15 scored her first goal for the Continentals, and Laura DiCarlo '12 notched her first of 2011-12. Abby Runyon '13, Gigi Fraser '14 and Courtney Power '15 picked up one assist each. Becca Hazlett '13 made 30 saves and allowed four goals.

The score was tied 2-2 early in the third period when Myers' fifth goal gave the Pioneers the lead for good at 4 minutes, 4 seconds. Johnson gave Utica a two-goal cushion with 2:36 left, and Steele-Norton clinched the victory with 1:18 remaining when she scored into an empty net. Kelly accounted for the final margin on her goal with 26 seconds left.

The Pioneers led 2-0 at 9:05 of the first period on two goals scored 26 seconds apart. Lang cut Hamilton's deficit in half on her second goal this season with 5:04 remaining in the first about midway through a power play for the Continentals. DiCarlo tied the score at 4:56 of the second period.

Utica held a 35-32 edge in shots. Hamilton was 1-for-3 on the power play and killed both of the Pioneers' opportunities. Utica ended its losing skid at three games.

The Continentals (0-3-0) host Connecticut College for a NESCAC game on Friday, Dec. 2.