Women's ice hockey falls to Williams
---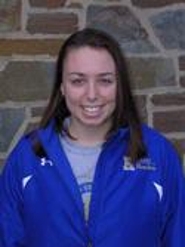 Williams College rallied from a 1-0 deficit with two goals in the third period, and went on to a 2-1 win against Hamilton College in a New England Small College Athletic Conference game at Hamilton's Russell Sage Rink on Nov. 20.

Katie Zimmerman '13 started off strong for the Continentals (0-2-0 overall, 0-2 NESCAC) with a goal 2:55 into the first period. Emily Baxter '13 and Riley Smith '12 were credited with assists.

After a scoreless second period, the Ephs (1-1-0, 1-1) tallied two goals within 73 seconds of each other midway through the third. Nicolle Perry '13 tied the score 7:20 into the third, and Kristen Tubbs '12 scored a short-handed goal at 8:33.

Becca Hazlett '13 made 21 saves for the Continentals and Rachel Nguyen '14 had 24 for the Ephs. Hamilton held a slim 25-23 advantage in shots. The Continentals received 11 power-play opportunities, while the Ephs had three.

The Continentals travel to SUNY Oswego for a non-conference game on Tuesday, Nov. 23.