Women's ice hockey earns first win of the season
---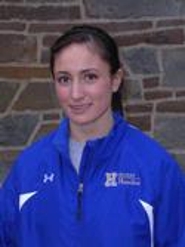 Stephanie Miguel '11 scored two goals and added an assist to lead Hamilton College to a 7-2 win against visiting Wesleyan University in a New England Small College Athletic Conference game at Russell Sage Rink on Nov. 28.

Miguel -- a second team All-American in 2009 -- recorded her first three points of the season. Laura DiCarlo '12 chipped in two goals for her first multi-goal game at Hamilton. Bret Lineberry '11 and Katie Zimmerman '13 added one goal and one assist apiece. The Continentals (1-3 overall, 1-2 NESCAC) had scored just one goal in their first three games.

Hamilton is 6-0-1 in its last seven games against Wesleyan, and leads the all-time series, 14-7-1. The Cardinals (0-3, 0-3) have allowed seven or more goals in all three games this season.

Wesleyan scored its first goal this season on slap shot from above the right circle that was deflected by a defender's stick and the puck skidded between the goalie's pads. It came just 13 seconds into the first period for a 1-0 Cardinals' lead.

On the ensuing faceoff, Zimmerman grabbed the puck for the Continentals, and skated from left to right in front of the crease before she shoved the puck into the back of the net from the right side for her first collegiate goal. Hamilton took a 2-1 lead at 9:34 of the first with Miguel's first goal on a backhand shot in front from the left side. The Cardinals tied the score with 5:26 left in the opening period on a wrister from the right circle that banged off the inside of the left post and into the goal.

The Continentals assumed control in the second period with the first two of five straight goals. Miguel skated down the left side and shuffled a pass from the left circle to Amy Allen '10, who was positioned in the right circle. Allen one-timed Miguel's pass for her 29th career goal at 4:21. Miguel made the score 4-2 on her second goal of the night with 3:59 left in the period. Miguel took a pass from Christie Sharlow '11, skated around the back of the net and stuffed the puck into the goal from the right side.

Hamilton put the game out of reach with two goals by DiCarlo in the opening 3:08 of the third period just 100 seconds apart. Lineberry accounted for the final score with her first collegiate goal with 4:59 remaining.

Becca Hazlett '13 made seven saves during the final two periods for the Continentals in relief of starting goalie Meg Shine '10. Hamilton enjoyed a 43-11 advantage in shots.

The Continentals host Trinity College on Sunday, Nov. 28, for another conference game.