Women's ice hockey ices Williams
---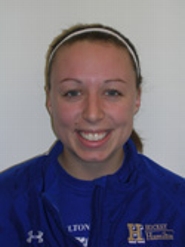 Katie Zimmerman '13 scored two goals and added an assist to lead Hamilton College to a 4-2 win against Williams College in a NESCAC women's ice hockey game at Hamilton's Russell Sage Rink on Jan. 14.

The Continentals (5-6-0 overall, 3-3 NESCAC) lost to Williams by the same score at Hamilton on Friday night. The Ephs still lead the all-time series 19-9-1.

Zimmerman leads the NESCAC with 13 goals and 20 points. She has scored at least one goal in four of the last five games.

Laura DiCarlo '12 chipped in one goal and one assist, and Riley Smith '12 notched her fourth goal of the season for the Continentals. Hannah Jaiven '14, Meredith Bitterman '12, Abby Runyon '13 and Courtney Power '15 were all credited with one assist. Jaiven leads the team with eight helpers. Becca Hazlett '13 stopped 27 shots, including 15 in the third period.

Sam Weinstein '13 and Aimee Dennett '13 tallied one goal apiece for Williams. Caitlin Conlon '15, Sarah Herr '12 and Eliza Foster '12 picked up one assist each. Conlon recorded her first point this season. Chloe Billadeau '15 turned aside 20 shots.

The Ephs (6-7-0, 3-3) tied the score at 2-2 on Dennett's third goal 34 seconds into a power play at 1:28 of the third period. Dennett jammed a loose puck past Hazlett during a scramble in front of the goal. Williams finished 2-for-7 on the power play, and leads the conference in power play percentage at 28.3 percent.

DiCarlo gave Hamilton the lead for good with her fourth goal at 4:59 of the third. She popped the puck into the goal after the initial shot from the left side was blocked. Zimmerman afforded the Continentals some insurance 33 seconds later. Zimmerman broke into the Ephs' defensive zone on a breakaway, and as she was falling down by a trip from behind, she swept the puck past Billadeau.

Zimmerman put Hamilton up 1-0 at 2:37 of the first period when she scored on a rebound after Billadeau had saved a shot by DiCarlo. Smith made it 2-0 at 1:42 of the second after Billadeau had made a stop and another shot clanged off the left post.

Weinstein cut Williams' deficit in half on a hard slap shot from above the left circle just 13 seconds into a 5-on-3 situation for her fourth goal with 6:51 left in the second. The Ephs pulled Billadeau for an extra skater with 2:40 left in the third period, but didn't score.

Williams held a 29-24 edge in shots, and held the Continentals scoreless in five power-play chances.

Hamilton travels to SUNY Oswego for a non-conference game on Tuesday, Jan. 17. The Ephs are at Castleton State in non-conference action on Tuesday as well.