Women's ice hockey blanks Conn. College
---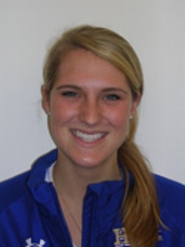 Becca Hazlett '13 stopped all 25 shots she faced to lead Hamilton College to a 3-0 win over Connecticut College in a NESCAC game at Hamilton's Russell Sage Rink on Dec. 2.

It was the first shutout of the season for Hazlett, and the third of her Hamilton career. Katie Zimmerman '13 and Gigi Fraser '14 scored goals just 1 minute, 17 seconds apart in the first period, and Stephanie Lang '14 added the final goal early in the second. Hannah Jaiven '14 was credited with two assists, while Zimmerman, Julia Beaty '13 and Meredith Bitterman '12 chipped in one apiece.

Hamilton (1-3-0 overall, 1-2 NESCAC) got on the board at 7:45 of the first period when Jaiven played the puck forward to Zimmerman on a rush. Zimmerman collected at the center of the blue line and beat two Camel defenders for her first goal of the year.

Hamilton doubled its lead just 1:17 later with a power-play goal. Jaiven played the puck to Beaty for a one-time slap shot from the right point, and Fraser redirected the puck into the net from just in front of the goal for her first goal of the season.

Connecticut College (1-2-0, 1-2 NESCAC) had several good chances to get on the board later in the first. One shot clanged off the crossbar about midway through the period, and another went off the left post on a breakaway opportunity with less than a minute remaining. Hamilton held a 2-0 lead at the first intermission.

Lang scored another power-play goal just 2:21 into the second period. After Bitterman's slap shot from the slot was saved, the rebound squirted out to Lang, who flicked the puck into the net for her third goal of the year. Zimmerman was also credited with an assist on the play. The Continentals led 3-0 at the second intermission.

Neither team found the net in the third period, but the Camels' best chance to score came just before time expired. A slap shot from the right circle by Courtney Dumont '14 banged off the crossbar.

Hamilton leads the all-time series 17-6-3. The Continentals held a 32-25 shot advantage, and went 2-for-6 on the power play. Connecticut College was 0-for-8 on the power play. Kelsie Fralick '15 stopped 29 shots in goal for the Camels.

Hamilton hosts Connecticut College for another NESCAC game on Saturday, Dec. 3, at 3 p.m.