Women's ice hockey blanks Colby for NESCAC win
---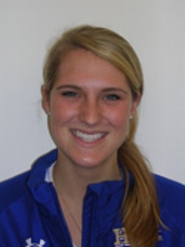 Hamilton College scored four goals in the second period and Becca Hazlett '13 made 33 saves as the Continentals shut out Colby College 4-0 in a NESCAC game at Colby's Alfond Rink on Feb. 17.

Hamilton (10-12-1 overall, 7-8-0 NESCAC) locked up the fifth seed in the 2012 NESCAC championship. The Continentals travel to No. 4 seed Trinity College for the quarterfinals on Saturday, Feb. 25, at 3 p.m.

Hazlett made 16 saves in the third period alone as the Mules tried to rally. She posted her third shutout this season and the fifth of her Hamilton career. She has a .914 save percentage and 2.40 goals against average in 15 NESCAC games.

Nikki Haskins '14, Julia Beaty '13, Laura DiCarlo '12 and Katie Zimmerman '13 recorded one goal and one assist each. Haskins has scored a goal in three straight games, and Zimmerman leads the conference with 17 goals.

Jennifer Keefe '12 tallied her first point this season and the second of her career for the Continentals with an assist. Abby Runyon '13 added her team-high 11th helper.

Colby (5-16-2, 2-12-1) was shut out for the ninth time this season. The Mules average just 1.13 goals per game. Brianne Wheeler stopped 30 shots.

DiCarlo broke the ice with her seventh goal at 9:38 of the second period. Haskins scored short-handed for her fifth goal at 11:00, and Beaty made the score 3-0 on her first goal of 2011-12 with 4:52 left. Zimmerman completed the scoring with 3:19 remaining in the period.

Hamilton posted its fourth shutout this season. Colby was held scoreless on two power-play chances while the Continentals didn't receive any opportunities.

The two teams meet again at Colby on Saturday, Feb. 18.