Women's ice hockey shuts out Wesleyan
---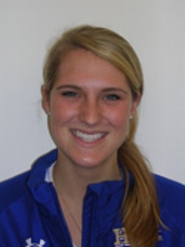 Becca Hazlett '13 stopped all 16 shots she faced and Hamilton College used a pair of third-period goals to seal a 3-0 win over Wesleyan University in a NESCAC game at Wesleyan's Spurrier-Snyder Rink on Feb. 3.

It was the third shutout of the season for the Continentals, and the fourth of Hazlett's Hamilton career. Hazlett sports a .908 save percentage and lowered her goals against average to 2.61.

Katie Zimmerman '13, Stephanie Lang '14 and Gigi Fraser '14 each scored a goal. Abby Runyon '13 and Nikki Haskins '14 added one assist apiece. Zimmerman leads the NESCAC with 16 goals and ranks second with 23 points.

Ashleigh Corvi '13 stopped 23 shots in 59 minutes, 8 seconds in goal for the Cardinals. Wesleyan has lost 13 straight games.

Hamilton (8-10-0 overall, 5-6 NESCAC) got on the board with 13 seconds left to play in the first period when Fraser poked home a loose puck for her third goal of the year. The Continentals led 1-0 at the first intermission.

Wesleyan (2-17-0, 1-10) successfully killed a 5-minute major penalty late in the second period to keep the score at 1-0. The Cardinals had a good chance to tie the score with two minutes left in the second, but a shot by Jordan Schildhaus '15 clanged off the left post. Hamilton led 1-0 at the second intermission.

Lang doubled the Continentals' lead at 12:15 of the third when she banged home a rebound following a shot by Runyon that was initially saved. It was Lang's sixth goal of the season.

After Wesleyan pulled Corvi for an extra skater in the final minute, Haskins fed a pass to Zimmerman at center ice for an empty-net goal with 2.2 seconds remaining.

Hamilton held a 26-16 shot advantage. The Continentals went 0-for-6 on the power play, while Wesleyan was 0-for-3. Hamilton leads the all-time series 18-7-1.

Hamilton stays at Wesleyan for another NESCAC game on Saturday, Feb. 4, at 3 p.m.