Women's ice hockey picks up win over Colby
---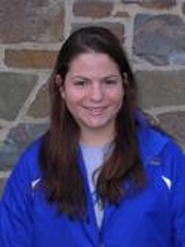 Hamilton College scored two goals in the opening 6 minutes, 14 seconds of the third period and pulled away for a 3-1 win over Colby College in a New England Small College Athletic Conference game played at Colby's Alfond Rink on Jan. 15.
Stephanie Miguel '11, Emily Baxter '13 and Amy Allen '10 each scored one goal for Hamilton (4-5-2 overall, 2-3-2 NESCAC). Allen added one assist.
Miguel's fifth goal put the Continentals up 1-0 with 1:10 left in the first period. Allen and Katie Zimmerman '13 were credited with assists on the power-play goal. Colby (2-7-4, 0-4-2) tied the score with 2:09 remaining in the second period.
Baxter answered with her first collegiate goal to give Hamilton a 2-1 lead 3:36 into the third period off an assist from Abby Runyon '13. Allen added a power-play goal at 6:14. Becky Cairns '11 and Christie Sharlow '11 tallied the assists. Allen leads Hamilton with six goals.
Becca Hazlett '13 recorded 20 saves as she just missed the shutout. Hamilton enjoyed a 27-21 advantage in shots on goal. The Continentals were 2-for-3 on the power-play, while the Mules were 0-for-5.
The Continentals travel to play another NESCAC game against Bowdoin College on Saturday, Jan. 16.