Women's ice hockey picks up win over SUNY Potsdam
---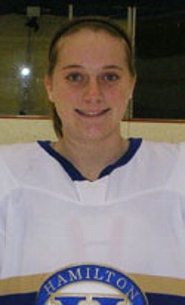 Abby Runyon '13 scored a goal and had an assist to lead Hamilton College to a 4-2 win against SUNY Potsdam in a non-conference women's ice hockey game at Hamilton's Russell Sage Rink on Jan. 25.

Runyon leads the team with seven assists. Four different players scored goals for the Continentals. Hamilton broke the game open in the second period with a dominating performance as the Continentals scored three goals and held a commanding 19-1 shot advantage.

Potsdam (7-10-1 overall) grabbed a 1-0 lead early in the first period on a nice individual effort by Jenn Crawford '14. Hamilton's Hannah Jaiven '14 took a shot from above the right circle that Crawford blocked and carried out of her own zone. Crawford skated in on a breakaway and ripped a slap shot past Tori Bogen '14 at 2:12. Bogen finished with 11 saves and improved her record in net to 3-0

The Continentals (7-9-0) scored the first of four consecutive goals with 6:47 left in the opening period. Julia Beaty '13 blasted a one-timer from the right circle that Runyon got a piece of before the puck sailed past Dawn Salvarinas '14 (36 saves). The goal was Runyon's third this season.

The second period was all Hamilton. Christie Sharlow '11 got things started with her third goal 2:03 into the period. Stephanie Miguel '11 skated through the slot from left to right and sent a backhand pass to Sharlow at the left post for the goal. Miguel picked up the 50th assist of her college career.

The Continentals made the score 3-1 with 6:14 left in the second. Jill Tokarczyk '14 hammered the puck from above the left circle to Riley Smith '12, who was cutting towards the right post. Smith redirected the shot into an open net for her first goal this season. Katie Zimmerman '13 gave Hamilton a three-goal cushion just 45 seconds later with her team-leading seventh goal. Zimmerman's wrist shot from below the right circle bounced off Salvarinas' left side and into the net.

The Bears scored the final goal of the night with 6:08 left in the third period. The puck was actually knocked into the Continentals' goal by a Hamilton player during a scramble in front. Caitlin Manahan '12 was credited with her ninth goal.

The Continentals finished with a 40-13 edge in shots. Hamilton was 0-for-4 on the power play but killed both of Potsdam's chances. The Continentals have won all three meetings between the two programs.

Hamilton hosts SUNY Cortland for another non-conference game on Tuesday, Feb. 1. The Bears travel to Utica College for an ECAC West game on Saturday, Jan. 29.