Women's ice hockey picks up win over Utica
---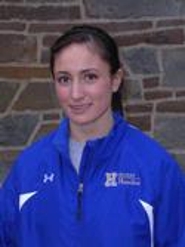 Stephanie Miguel '11 scored one goal and assisted on two others in Hamilton College's 4-2 win over visiting Utica College in a non-conference game at Russell Sage Rink on Jan. 26.
Miguel leads Hamilton with 12 assists and 18 points. Amy Allen '10, Christie Sharlow '11 and Meredith Bitterman '12 all chipped in one goal and one assist each. Allen leads the team with seven goals. Becca Hazlett '13 made 25 saves, including 13 in the third period. Hazlett entered the night ranked fourth in NCAA Division III with a .943 save percentage.
Allen capitalized on a power play to put the Continentals (6-7-3 overall) up 1-0 with 6:14 left in the first period. Utica (9-8-2) tied the score as the teams skated 3-on-3 at 3:44 of the second period.
With 4:19 remaining in the second period during a 4-on-4 situation, Miguel took the lead back for the Continentals with a goal off assists from Rachel Rapoza '10 and Bitterman. The goal was Miguel's sixth this season. Bitterman scored her first goal of the season on a power play 1 minute, 51 seconds later for a 3-1 advantage. Julia Beaty '13 and Laura DiCarlo '12 were credited with assists. With only 24 seconds left in the period, Utica scored to cut the deficit to one.
Sharlow closed the scoring with her third goal on yet another power-play chance for Hamilton with 4:44 remaining. Utica tried to rally late after the Continentals were whistled for two penalties. The first one was called with 3:29 left and the second came just 17 seconds after. The Pioneers pulled their goalie nine seconds later and were skating 6-on-3 for one minute, but couldn't pull closer. One shot hit the crossbar and Hazlett made a couple nice saves to keep the two-goal lead intact. Utica also had an empty net for the final 1:25, but Hazlett was solid in goal.
The Continentals were 3-for-7 on the power play, while the Pioneers were held scoreless in six chances. Hamilton enjoyed a 36-27 advantage in shots on goal.
Hamilton will play again on Tuesday, Feb. 2, in a non-conference game at SUNY Potsdam.