Women's ice hockey plants Potsdam
---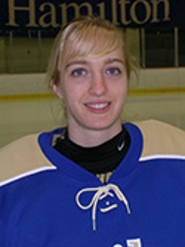 Hamilton College received goals from four players and the Continentals returned to the win column with a 4-2 non-conference victory against SUNY Potsdam at Potsdam's Maxcy Ice Arena on Jan. 29.

Katie Zimmerman '13, Hannah Bartlett '16 and Nikki Haskins '14 posted one goal and one assist apiece for Hamilton (10-6-1 overall). Megan Fitzgerald '16 scored the other goal, and Jill Tokarczyk '14 and Grace Murphy '16 were credited with assists. Tori Bogen '14 made 20 saves and picked up her first win in goal this season.

Zimmerman leads the NESCAC with 16 goals and is ranked fourth in Division III in goals per game. Bartlett leads the Continentals with eight assists.

Izzy Fayerman and Amanda Lucky paced Potsdam (7-11-2) with one goal and one assist apiece. Katie Marsman added a helper and Jen Conophy turned aside 36 shots.

Hamilton scored on its second shot just 36 seconds into the opening period. Zimmerman fired a shot and Haskins cleaned up the rebound for her seventh goal. Lucky tied the score with a wraparound goal from the right side of the net at 11:27 of the first. Hamilton got the lead back 49 seconds later when Fitzgerald slid the puck by Conophy for her fifth goal.

The Continentals made it a 3-1 advantage on Bartlett's second goal this season at 10:38 of the second period. Murphy fed Bartlett, who squeezed the puck between the left post and Conophy's skate.

Hamilton went on the power play at 3:09 of the third period and converted 17 seconds into the opportunity. Zimmerman collected her own rebound and scored to make it 4-1. With 8:43 remaining, the Bears cut their deficit in half on Fayerman's goal. Potsdam recorded just five shots in the third period.

Hamilton, which defeated the Bears 4-2 at home back on Dec. 4, enjoyed a 40-22 shot advantage. The Continentals were 1-for-2 on the power play and killed Potsdam's only chance. Hamilton entered the night ranked fourth in Division III on the power play at 24.2 percent.

The Continentals return home to take on Wesleyan University for a NESCAC game on Friday, Feb. 1.