Women's ice hockey plays to tie with No. 1 Amherst
---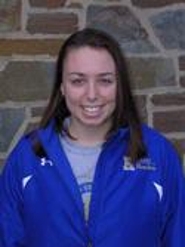 Katie Zimmerman '13 scored two goals and assisted on another to lead visiting Hamilton College to a 3-3 tie with nationally ranked No. 1 Amherst College in a New England Small College Athletic Conference game played at Orr Rink on Jan. 23.

Abby Runyon '13 scored one goal and added an assist for the Continentals (5-7-3 overall, 2-5-3 NESCAC). Becca Hazlett '13 stopped 47 shots -- including 23 in the first period -- to move to 4-5-2 on the year. Hamilton is just the second team to score three goals or more against the Jeffs this season.
Amherst (11-1-4, 7-0-3) grabbed a 1-0 lead on a power-play goal with 4 minutes, 39 seconds remaining in the first period. The Jeffs were 2-for-6 with the extra skater.
A wild second period featured four goals in the last five minutes. Hamilton called a timeout at the start of its own power play after an Amherst tripping penalty with 5:02 left. Zimmerman scored 51 seconds later to tie the score at 1-1. Christie Sharlow '11 recorded her eighth assist of the season. The Continentals were 1-for-7 on the power play.
It took Amherst less than three minutes to regain the lead with a power-play goal. After Hazlett managed to knock down the puck, one of the Jeffs was there to clean up and make it a 2-1 score with 1:27 to play in the frame.
The Continentals stormed right back with another tying goal with 48.7 seconds remaining in the second. An initial shot by Zimmerman was saved by the Amherst goalie, but Runyon was there to put home the loose puck for her third goal of the season.
The second-period scoring was not done, however, as Amherst regained the lead with 12.1 seconds remaining. The Jeffs sent a one-timer from the right wing into the back of the net to make it 3-2.
Hamilton found the equalizer for a third time 2:13 into the third period when Zimmerman scored her sixth goal of the season. Zimmerman is tied for the team lead with those six goals. Runyon and Louise Roy '10 were credited with assists.

The Continentals held an 11-9 edge in shots in the third. Amherst had one shot during the overtime period, but Hazlett made the save. Amherst enjoyed a 50-22 advantage in shots overall.
The Continentals return to action on Tuesday, Jan. 26, when they host local rival Utica College for a non-conference game at 7 p.m.