Women's ice hockey rallies to defeat SUNY Potsdam
---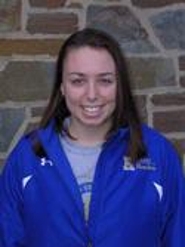 Hamilton College scored four goals in the third period to come from behind and defeat host SUNY Potsdam, 6-5, in a non-conference game on Feb. 2.

Amy Allen '10 scored two goals for Hamilton (7-7-3 overall). Katie Zimmerman '13 added the game-winning goal and two assists. Christie Sharlow '11 added one goal and three assists. Becky Cairns '11 and Laura DiCarlo '12 each added one goal. Stephanie Miguel '11 earned three assists.
Meg Shine '10 played the opening 7 minutes, 37 seconds in goal and recorded three saves. Becca Hazlett '13 came in to play the remainder of the first period and the entire second period. Hazlett finished with 12 saves. Lesley Ryder '11 took over in the third period for the Continentals, and stopped all eight shots that she faced. Ryder improved her record to 1-1-1.
SUNY Potsdam (8-10-1) exploded out of the gates with three goals in the opening 7:37. Allen put the Continentals on the scoreboard at 8:40 of the first, when she scored her first goal of the night on a power play off assists from Sharlow and Zimmerman.
The Bears made the score 4-1 at 5:47 of the second period. Allen capitalized on a power play to score her ninth goal of the season, and cut the Continentals' deficit to two goals with 3:13 remaining in the second period. Miguel and Sharlow were credited with assists. Potsdam responded with another goal to make the score 5-2 just 11 seconds later.
It was all Hamilton in the third period. Cairns scored her second goal of the season 2:18 into the third off an assist from Rachel Rapoza '10. At 5:33, Sharlow found the back of the net for the fourth time this season to cut Potsdam's lead to one. Zimmerman and Laura Stirrat '10 tallied the assists.
A little over four minutes later, DiCarlo tied the score at 5-5 with her sixth goal off assists from Miguel and Abby Runyon '13. At 12:46, a Potsdam player was sent to the penalty box for holding. Zimmerman took advantage of the extra skater and scored her seventh goal this season off assists from Sharlow and Miguel with 7:02 left to secure the win for the Continentals.
Hamilton enjoyed a 36-28 advantage in shots on goal. The Continentals were 3-for-7 on the power play, while the Bears were 1-for-2.
Hamilton plays again on Friday, Feb. 5, when the Continentals host Williams College for a NESCAC game at 7 p.m.