Women's ice hockey shut out at No. 3 Elmira
---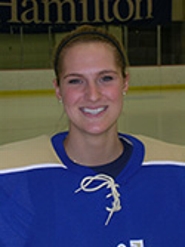 Lisa Marshall '14 made 18 saves for her second shutout this season and nationally ranked No. 3 Elmira College topped Hamilton College 3-0 in a non-conference game at Elmira's Murray Athletic Center on Jan. 5.

The Soaring Eagles (13-1-1 overall) won their sixth straight game. Elmira improved to 10-0 all-time against the Continentals.

Brooke Wilgosh '15 posted one goal and one assist to lead the Soaring Eagles' offense. Tanis Lamoureux '14 and Sam Curk '13 scored one goal apiece and Cassidy Delainey '15 chipped in an assist.

Becca Hazlett '13 made 25 saves and played all but 34 seconds in goal for the Continentals. Hazlett upped her save percentage to .910 and kept her goals against average at 2.00.

Elmira wasted no time getting on the scoreboard as the Soaring Eagles grabbed a 1-0 lead just 1:29 into the first period. Delainey sent a pass to Wilgosh at the right faceoff circle and she fired a shot off the right post. Curk collected the rebound at the top of the left faceoff circle and slapped a one-timer that went in off the bottom of the crossbar.

After a scoreless second period, the Soaring Eagles extended their lead with 6:31 left in the third when Lamoureux slipped the puck past Hazlett on the low stick side. Hamilton (6-3-0) pulled Hazlett with 1:35 remaining in favor of an extra skater, but Wilgosh tacked on an empty-net goal with 61 seconds left.

Elmira enjoyed a 28-18 shot advantage and went 1-for-4 on the power play. The Soaring Eagles killed all three Hamilton power-play opportunities.

The Continentals are back in action at SUNY Cortland for a non-conference game on Tuesday, Jan. 8. Elmira hosts Chatham University on Friday, Jan. 11.