Women's ice hockey shut out by No. 5 Amherst
---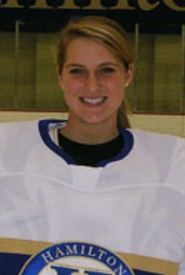 Brittney Evans '11 scored midway through the second period and Caroline Hu '11 stopped all 17 shots she faced to lead nationally ranked No. 5 Amherst College to a 1-0 win against Hamilton College in a New England Small College Athletic Conference women's ice hockey game at Hamilton's Russell Sage Rink on Jan. 22.

Amherst (9-4-2 overall, 7-1-1 NESCAC) won its third straight game. The shutout is the fifth this season for the Jeffs, and it's the 15th of Hu's career.

Becca Hazlett '13 made 41 saves for the Continentals. Hazlett has a .911 save percentage and 2.76 goals against average. Hamilton (6-8-0, 4-5) was blanked for just the second time this season. The Continentals still own a 13-12-2 edge in the all-time series against the two-time defending NCAA Division III champions. The teams meet again at Sage Rink on Sunday, Jan. 23, at 3 p.m.

Amherst scored on one of its six power-play chances at 7:45 of the second. Ellen Swiontkowski '12 took a shot from the slot that was turned away by Hazlett, but Evans pounced on the rebound and tallied her second goal this season. Randi Zukas '11 was also credited with her ninth assist, which ties her for the team lead.

Hamilton missed two opportunities on an open net that would have tied the score midway through the third period. The Continentals pulled Hazlett with 35 seconds left for an extra skater, but didn't get a shot on goal. The Jeffs enjoyed a 42-17 shot advantage -- just 9-8 in the final period -- and killed all four Hamilton power plays.