Women's ice hockey shuts out Connecticut College
---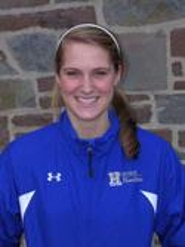 Emily Baxter '13 scored in the second period and Becca Hazlett '13 made the goal stand up as Hamilton College earned a 1-0 victory against Connecticut College in a New England Small College Athletic Conference game at Conn. College's Dayton Arena on Feb. 13.
Hazlett stopped all 41 shots in her second shutout of the season, and improved her record to 8-7-2. She made 20 saves in the second period alone. With the win, the Continentals (10-9-3 overall, 4-7-3 NESCAC) hold on to sixth place in the NESCAC standings, and will carry a critical one-point lead over the Camels (7-13-2, 4-8-2) into the final weekend of the regular season.
Christie Sharlow '11 made the key play that led to the goal at 9:58 of the middle period. Sharlow was able to win a battle for the puck behind the goal. She snapped a pass out in front to Baxter, who buried a one-timer in the slot for the difference-maker. It was Baxter's third goal this season.
Hamilton finished 0-for-3 with the extra skater, while Connecticut College was 0-for-5. The Camels held a 41-26 advantage in shots on goal. Conn. College was a 5-4 winner against Hamilton on Friday night.
The Continentals travel to play another NESCAC game against Wesleyan University on Friday, Feb. 19.